The best over-ear Sennheiser headphones under $100.
Our Conclusion
Overall score: 3.9 out of 5 points.
Sennheiser HD280PRO headphones provide professional features, good sound quality, comfort, and noise isolation at a great price. Keep reading to see why they are the best over-ear headphones under $100.
PROS

Excellent noise isolation
Professional build quality
Heavy-duty design
Great for monitoring at low volume
CONS
Heavy coiled cable can strain connectors
Padding and fit can be too tight for larger head sizes
---
Sennheiser HD 280 PRO made the best list in:
Best headphones under $100
Best noise isolating headphones
---
What's In The Box?
Sennheiser HD280PRO Headphones
¼" stereo adapter screwed onto 3.5mm plug
Coiled audio cable (attached)
Comfort – 4/5 Great
Soft padding provides a secure and snug fit.
Sennheiser HD280PRO circumaural headphones have a soft synthetic leatherette headband and ear cup padding that is comfortable and durable.
The ear cups attach to the headband with a hinge and swivel design that allows extra flexible range.
DJs love the full swivel design for listening with one ear cup. This design also means the headphones naturally fit a variety of head and ear sizes.
Noise Isolation – 4/5 Great
The padding around the ear cup fully covers the outside of the ear, providing a great seal for increased bass response and noise isolation.
With 32 dB of passive noise isolation, these closed-back headphones have one of the best noise attenuation ratings when compared to other headphones under $100.
There is little-to-no sound leakage, so you can listen in confidence with the knowledge that others won't be able to listen in. Nor will you be bothered by ambient noise.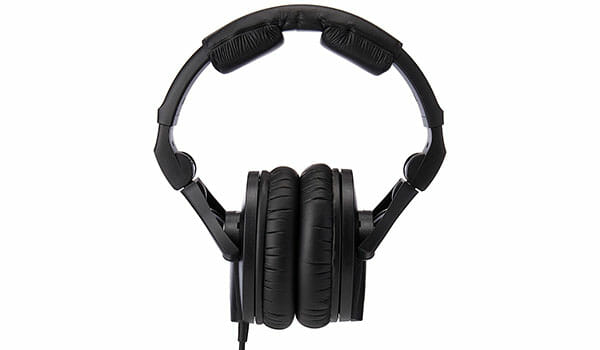 The HD280PRO headphones are a bit heavy, weighing in at 10 ounces (285 grams) without the cable.
That may not seem like much weight, but the coiled cable is fairly heavy and adds to the overall mass when you're wearing the headphones.
Some users with larger head sizes may not like the snug fit since it can feel like the headphones clamp over the head and ears too much.
As with most closed-back headphones, your ears can get warm when using these headphones for long periods of time.
The main takeaway is that the overall comfort level is great and it feels like you're wearing a high-quality set of headphones.
Durability – 4.5/5 Almost Perfect
Professional quality and heavy-duty design, great for everyday use.
Professional audio and production engineers around the world rely on the Sennheiser HD280PRO headphones for daily use in the studio and on location.
These headphones are great for everyday use in outdoor and indoor environments.
The coiled cable is heavy duty with good strain relief. The only problem with this design is that there is added pressure on a device when using the 3.5mm jack.
Sennheiser's product description indicates that the headphone cable is easily replaceable.
That is technically true since it has a modular pin connector for the connection inside the left ear cup, but it is not a 3.5mm jack design.
Replacement ear pads and headband padding are easy to find if you ever need to replace them. That's almost a necessity since studio headphones get used a lot.
They're made from mostly plastic, have a robust construction and collapsible design which makes for great user experience.
Features – 3/5 Good
Compact folding design with professional features.
One thing that a lot of travelers and professional users appreciate is the compact folding design of the Sennheiser HD280PRO headphones.
The ear cups can both pivot to fold flat or they can be folded into the headband for a sturdy package that can be packed in a backpack or gear case.
The coiled cable is perfect for use in the studio or production environments when you want some cable flexibility, but don't need a lot of extra wire hanging around.
The cable length is 3.3 feet (1 meter) when coiled and 9.8 feet (3 meters) when extended.
A ¼" stereo adapter is provided and screws on to the 3.5mm plug for a secure fit that won't accidentally detach.
These headphones don't come with any other accessories, but there are various cases and cables available from third-party sellers.
Sound – 4/5 Great
Quality sound for any listening environment.
The closed circumaural design of the Sennheiser HD280PRO headphones makes them a great choice for listening in loud environments, in the recording studio, commuting, or around the home.
The general sound quality is great, but it isn't necessarily Sennheiser's top of the line audio profile. Just remember, these headphones are under $100.
The bass is not too strong, which is good for a lot of critical listening environments but not for bassheads.
Sound reproduction won't disappoint you. Highs and mids are balanced, articulate, and blend nicely for a wide variety of musical genres.
Musicians, DJs, and audio engineers will definitely appreciate the balanced sound signature that the HD280PRO headphones offer.
With so many professional features, dependable performance, and quality sound, it's easy to rank the Sennheiser HD280 PRO headphones as the top pick for over-ear headphones under $100.
Comments