Over-Ear
Modular Mod-1 Review: Crowdfunding Success or Failure?
Crowdfunded wireless Bluetooth headphones with an FM radio.
The Modular Mod-1 is the product from this crowdfunded project. While the promises were big there are still quite a few things to improve.
Called Mod-1, these over-ear Bluetooth headphones offer extra features like a SD card reader but feel lackluster when it comes to other features. They are still decent basshead wireless headphones, you can check them on Amazon below.
PROS
Very lightweight
Comfortable design with soft earpads
Great build quality
CONS
Overpowered bass
Lackluster looks
Annoying controls

Specifications
Type: Over-ear
Connection: Wireless Bluetooth & 3.5mm AUX
Back design: Closed-back
Driver size: 40mm
Frequency response: 20Hz – 20,000Hz
Impedance: 4 ohm
Weight: 0.5lbs (227g)
Cable length: /
Microphone & Controls: Yes (built-in)
Water-protection: None
Bluetooth: 4.2.2.
Battery life: 3.5h – 7h
Charging time: Under 2h
Noise-cancelling: No
Charging port: Micro USB
aptX: No

What's in the Box?
Modular Mod-1 wireless headphones
AUX cable, 3.5mm
Micro-USB cable
User manual
Comfort
While these headphones are considered over-the-ear they are rather small. If you have bigger ears you might have a problem fitting them comfortable. Nonetheless, for average ears, they fit well. The earpads are soft enough to create a comfortable feeling after they warm up. In the beginning, the cups might feel a bit cold to the touch but it goes away.
The soft foam and faux leather earpads can easily be replaced with different ones, though not many are available at the writing of this review. We might see more options over time. It's nice to have options.
Additionally, the flexible headband can be stretched quite far and can easily fit even the biggest heads. Moreover, the earcups easily adjust to the shape or your head. The Modular Mod-1 have above average comfort due to their light weight and flexible headband.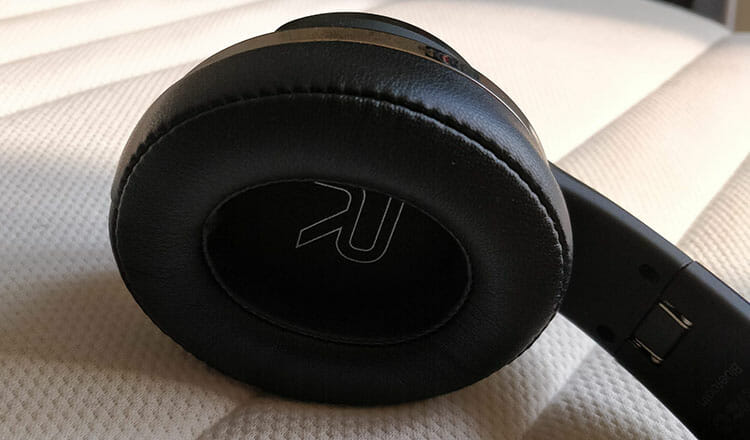 Noise Isolation
You might hear these headphones have noise cancelling but that's actually just passive noise isolation. There's still a lot of confusion about this, an explanation here.
The passive noise isolation is decent. It's not going to put you into a sublime world of peace & quiet but it's quite good. There's also little sound leakage so you can listen to your music in public with confidence.
Durability
This is one of the strong points. Modular Mod-1 have great build quality. You can feel the quality of the metal headband that can be flexed quite dramatically. The ear cups can be folded for easier storage and portability. But keep in mind you need to use some force to fold them, the headband is really well made. Also, the plastics covering the metal parts isn't top notch but feels solid and gives an overall good impression.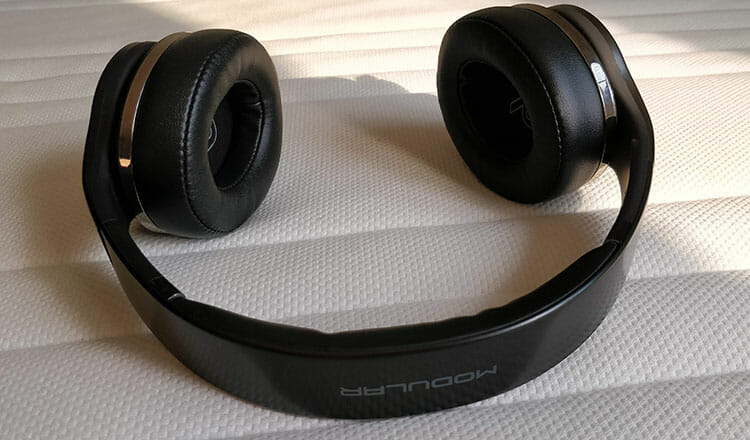 The only thing we don't like is how the headband is designed. It looks a bit outdated and has a "cheaper design" look. Modern manufacturing can make better-looking products. Nonetheless, these feel very solid and can withstand a lot of punishment.
Bluetooth & Battery
Bluetooth 4.2.2. is easy enough to use and connect. You get the standard range of around 30ft (10m) with a strong connection. As a result, you won't lose connection even with a thicker wall in between.
The battery at full charge will last you from 3 and half hours up to 7 hours according to the manufacturer but we think around 5.5h-6h is more reasonable. It greatly depends on the volume you listen to.
You can charge time with the micro-USB cable and they charge up in under 2 hours.
Accessories
There really aren't many accessories in the package. You get a regular Micro-USB cable for charging. You could use the same cable from any other device.
And you also get an AUX cable with a 3.5mm jack on both sides. These are the only additional things in the package.
Features
With built-in controls, you can control the music in Bluetooth mode which is standard functionality for all wireless headphones. The problem with Mod-1 is clumsy button design. It takes quite a while to get used to and even then you'll "miss-press" buttons on accident… especially when walking.
The design with one plate for all buttons might look sleek but creates a problem for usability. Miss-clicking and accidentally calling the last person you talked to instead of increasing volume happens more often than you'd want. Since it's the fault of the design there's nothing you can do.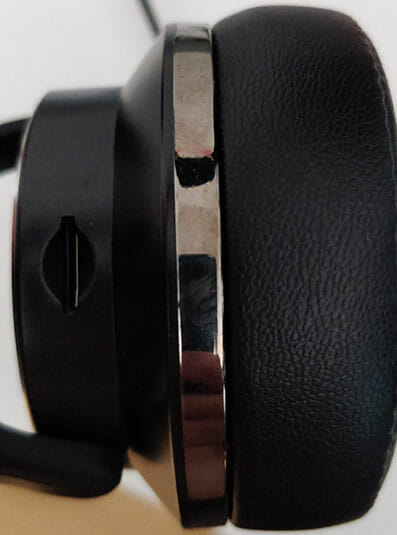 Now not everything is bad. Mod-1 have unique features you can't find elsewhere. Micro SD card reader in the earcup. This is a very unique feature but the real question is: "Who really uses micro SD cards for music nowadays?". With a wide selection of streaming music services, hardly anyone bothers with SD cards.
It feels slightly redundant. The only reason why you'd want this is if you want to use the headphones as freely as possible without a music device. Just put in a micro SD card and enjoy your music.
Another unique feature is the radio FM mode. It actually has a radio receiver inside which is great if you like listening to the radio. You don't need any music device, just turn them on, find the frequency and enjoy your favorite radio. Unfortunately, there is no way to save your favorite radio so you have to find it anew every time.
Sound
Now when it comes to sound quality these are bass emphasized. Hence they have a pronounced bassy sound signature with a good thump. The lows don't go super deep any are slightly muddy. Consequently, not amazing for a basshead but good enough.
Also an issue we found very annoying was a much lower volume in Bluetooth mode compared to wired mode. We use the same smartphone for all Bluetooth headphones and with Mod-1 the max volume doesn't go as high. This might be better for your hearing but sometimes it's just fun to blast music at uncomfortable volumes.
Additionally, treble lacks a bit of detail and comes out average at best.
Thankfully, sibilance and harshness are not a problem.
Moreover, soundstage is very average. Altogether the sound is a bit of a disappointment. You can get better at a lower price. If Modular improved their sound quality these would be a better choice.
Overall, you can find unique features (micro SD card reader, FM radio) in a comfortable and well-built pair of headphones but with a lackluster bassy audio quality and "funny" controls.
Related:
Bluetooth earbuds guide
Wireless gaming headsets
The top headphones under $100
Comments