Top wireless Bluetooth speakers you can confidently take outside.
Model
Rating
Price
IPX Rating

i

Tells water-protection level. Higher is better.

Battery

i

Battery life on full charge.

Power
Watts

i

Watts give a general idea of the power of speakers. Higher might not be always better.

Powerbank
3.5mm
input

i

Input & Output support may vary.

PartyUp

i

Connect multiple speakers.

JBL Flip 5
best overall
4.7
More info
under $120
IPX7
12 hours
20W

Ultimate
Ears Boom 2
long battery
4.3
More info
under $90
IPX7
15 hours
9W
JBL Charge 4
best big speaker
4.6
More info
under $140
IPX7
20 hours
30W
Bugani M83
best power & bass
4.8
More info
under $50
IPX5
40 hours
50W
Oontz Angle 3 Ultra

4.3
More info
under $40
IPX6
20 hours
14W
Anker Soundcore 2

4.5
More info
under $50
IPX7
24 hours
12W
AOMAIS Sport II+

4.5
More info
under $50
IPX7
30 hours
20W
Ultimate Ears Wonderboom 2
floating Bluetooth speaker
4.7
More info
under $70
IPX7 (IP67)
13 hours
Unspecified
Anker Soundcore Sport XL

4.3
More info
under $50
IPX7 (IP67)
15 hours
16W
(2x8)
Photive Hydra

4.3
More info
under $60
IP66
8 hours
10W
Bluetooth speakers are nice because you can take them with you, connect your smartphone, and listen to music. Take your music to the beach, camping, or hiking trip.
But not all Bluetooth speakers are made for outdoors. There's rain, dust, and other hazards which kill electronics.
Your fancy model won't survive long in the harsh environment outside. You don't want to risk it.
Thankfully, you can find speakers with fully waterproof design, dust protection, and rugged construction. These are perfect for the harshest conditions outside.
Check the quick review below.
IPX – Water Protection Explained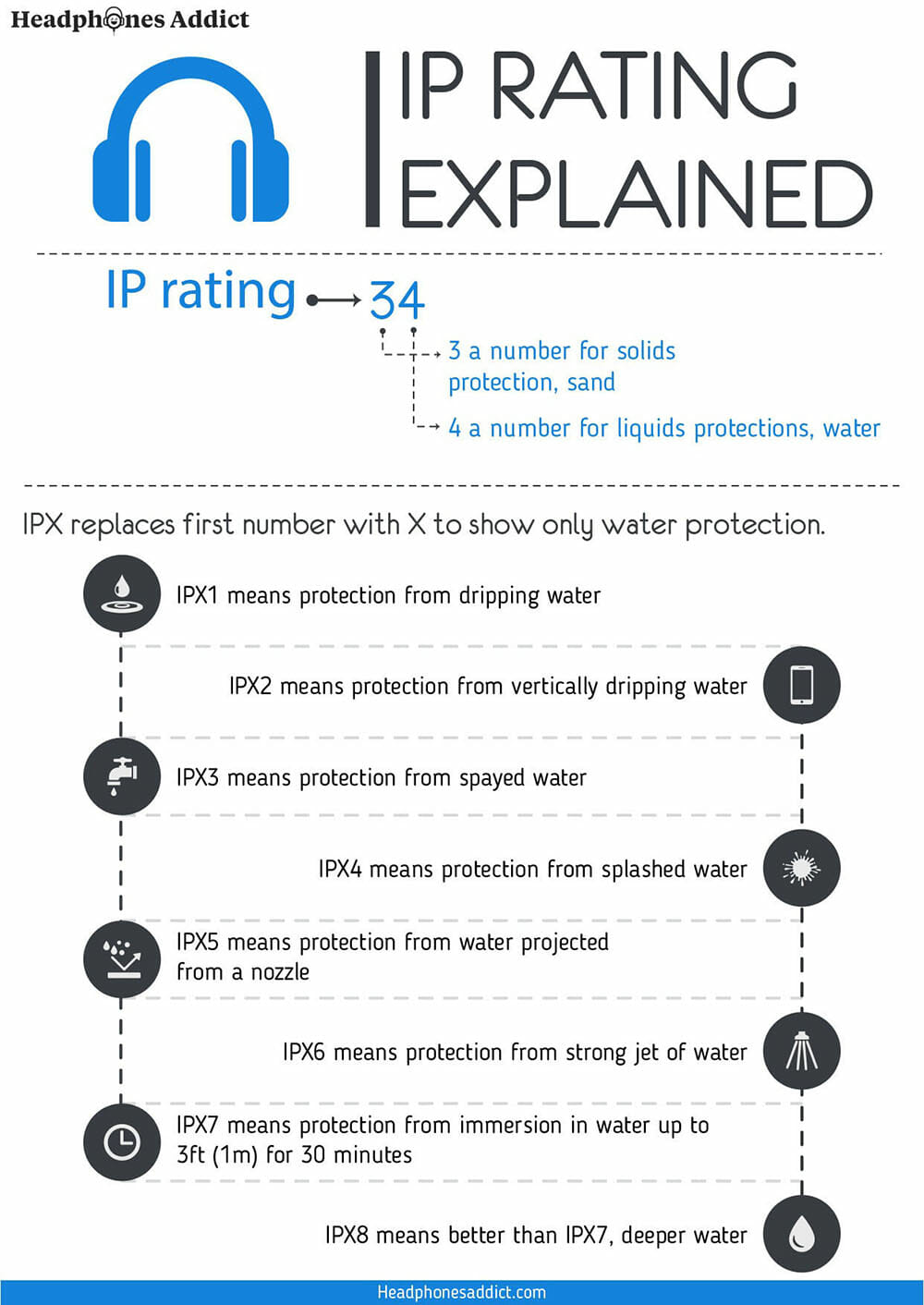 What Makes a Good Bluetooth Speaker for Outdoors?
It needs to be durable.
The main thing we are all afraid of is, "Will my Bluetooth speaker survive if I take it outside?".
Because there's rain that will eventually catch you. And electronics hate water.
You might accidentally splash your speaker with water on the beach. Or sand might get inside and ruin it. You might accidentally drop it on the floor and break it.
There's a lot of bad situations that can happen outside and aren't good for portable Bluetooth speakers.
This is why picking an outdoor wireless speaker with good water-protection, sand/dust protection and a strong, rugged design resistible to drops is important.
It needs to be loud enough.
To listen to music in an open space requires more powerful speakers. Otherwise the music won't be loud enough.
For that reason, small speakers with Bluetooth aren't the best for outdoor use. You need strong drivers that produce enough power.
And, if you want to have a small outdoor party, you need the biggest you can get. Or connect multiple speakers (only some models) to boost volume.
It needs dependable battery life.
Outside there are no ways to charge your portable speaker like at home. You want to get as much playtime per single charge as possible. What would be the point of taking the outdoor speaker with you if it dies in a couple hours.
Best Outdoor Bluetooth Speakers
Bluetooth pairing is pretty straightforward and NFC pairing is quick.
1. JBL Flip 5 (best overall)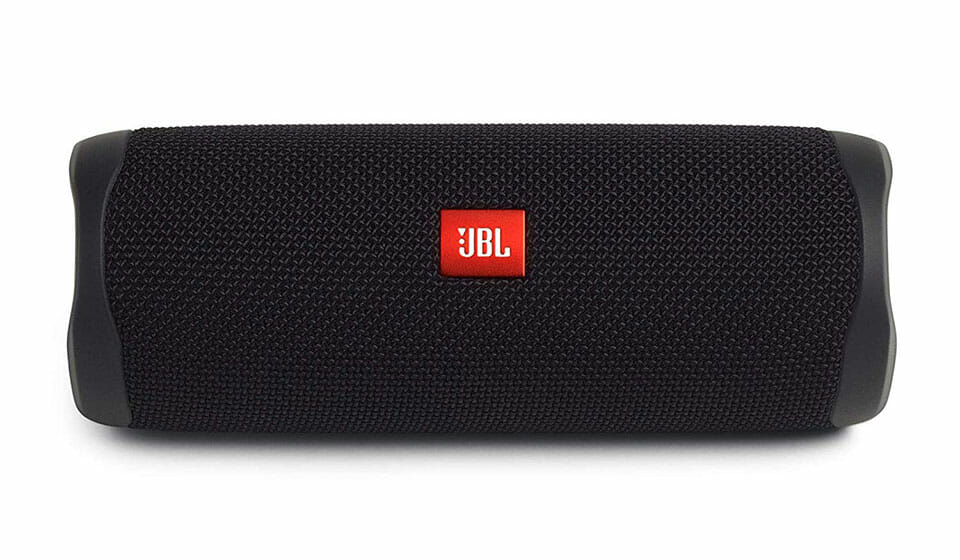 Best overall outdoor Bluetooth speaker
The Flip 5 is a quality-sounding, portable, and waterproof speaker from a powerhouse audio brand, JBL.
Water protection: IPX7
Battery life: 12 hours
Power: 20 watts
Powerbank: No
The Good
Flip 5 is small enough to fit in a backpack, and it has a strap to allow you to place it around your wrist. In spite of only weighing just over 1lb, it has a fair amount of power, perfect for most genres of music.
20 watts is a big upgrade from Flip 4. You can also pair 2 of these speakers for a stereo effect. If your friend has one, you can chain them together for double the power.
A rubber design adds to the durability. IPX7 water resistance also means it's safe for outdoor use, even in the rain or at pool parties. Use the battery for up to 12 hours before having to charge.
The Bad
Many speakers include microphones for voice calls; this one doesn't.
This portable speaker is a great all-round option. Reliable Bluetooth connectivity, a good battery, and water resistance combined with JBL sound for a great option. JBL 5 is a top outdoor Bluetooth speaker.
---
2. Ultimate Ears Boom 2 (long battery)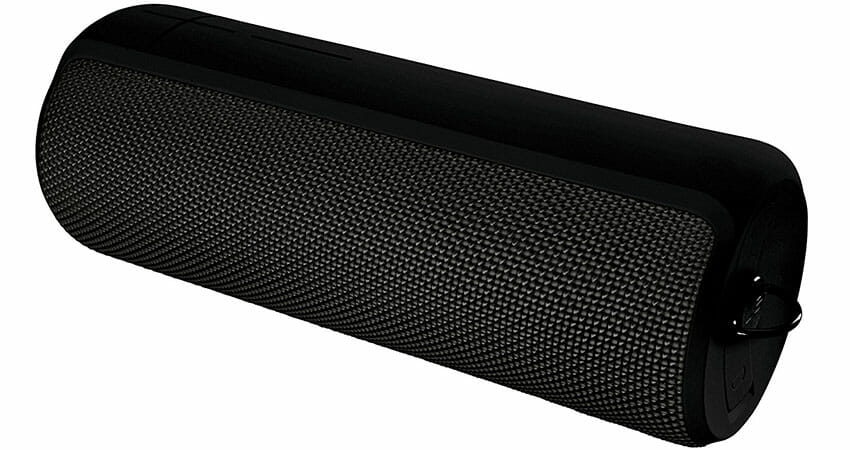 A great IPX7 speaker with 15-hour battery
Water protection: IPX7
Battery life: 15 hours
Power: 9 watts
Powerbank: No
The Good
A clever 360 degrees sound is good for pop, rock, and other genres. It does an excellent job of filling the space. The bass has a bit of a boost. However, there is no frequency response for really deep bass (under 90 Hz).
The IPX7 waterproof rating means it can be briefly submerged or cope with rain. The Ultimate Ears Boom 2 is also shockproof, so you can drop it, and it will probably be fine.
The PartyUp feature means you can connect up to 150 of these together. The wireless range is up to 100 feet, and 8 devices can be connected at once.
The Bad
Bass can go missing in heavier sounds. These speakers aren't the best for heavy genres. Drum and bass fans should look elsewhere.
The rechargeable battery doesn't always last as long as advertised, especially when the audio is cranked loud.
For waterproof and shock resistance functions or a speaker you want to chain with lots of your friends, the Ultimate Ears Boom 2 are a good option.
---
3. JBL Charge 4 (best big speaker)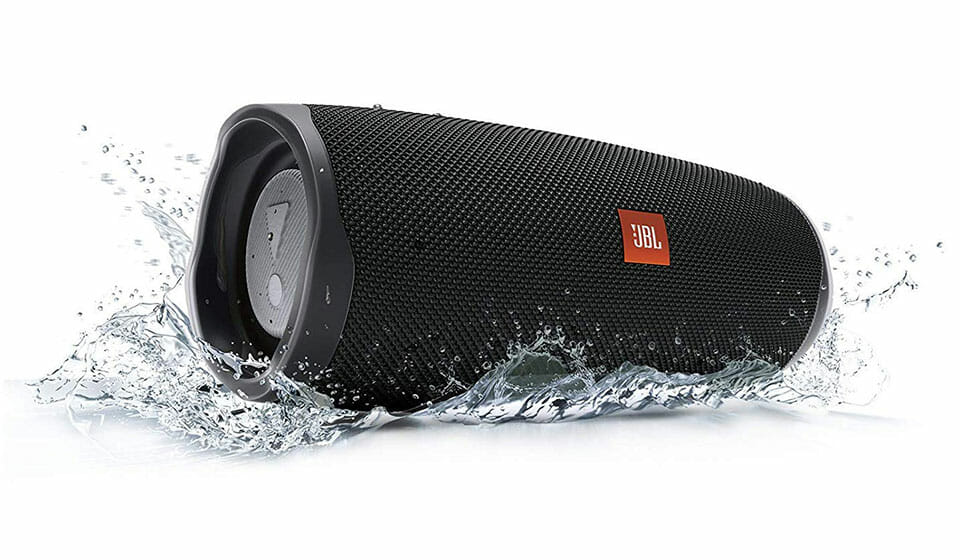 Best big outdoor Bluetooth speaker
The JBL Charge 4 is a big speaker, and this allows it to incorporate a huge battery and the ability to charge your devices.
Water protection: IPX7
Battery life: 20 hours
Power: 30 watts
Powerbank: Yes
The Good
An amazing battery is a huge plus. The 7800mAh battery means up to 20 hours of playtime and charging your devices. A USB output allows you to plug in your phone or other devices.
The JBL Charge 4 can be submerged in water as it has an IPX7 rating. It's a large speaker, and it's pretty rugged even though it's not as portable as the JBL Flip.
If your friends have other JBL Connect+ models, you can chain them together for more power. This model already has a 30W of power. It packs a punch in the low end, great for heavier genres of music.
The Bad
Not as easily portable as some other options on the market. Also, the battery will not last 20 hours if you are using the charging capabilities.
Overall, if you don't mind the extra bulk, you'll love the great bass response and long battery life of the JBL Charge 4.
---
4. Bugani M83 (best power & bass)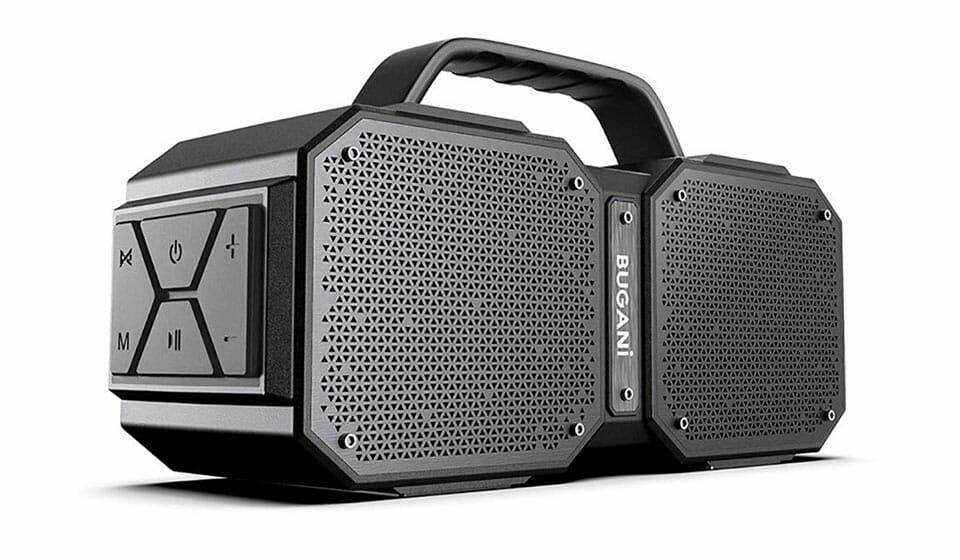 Powerful Bluetooth speaker with subwoofers
If you're looking for a boombox design with lots of power and charging capabilities, and aren't worried about portability, the M83 is a fantastic option.
Water protection: IPX5
Battery life: 40 hours
Power: 50 watts
Powerbank: Yes
The Good
The sound of these speakers is great, especially for the price. The 50W of power comes from both tweeters and subwoofers to divide the frequencies and give good clarity in the low end as well as highs.
These produce massive bass for its size.
40 hours of battery life, combined with the ability to charge your phone, make it a good option for battery storage. It also has a micro SD card slot, so you don't have to play from your devices.
The Bad
Only IPX5. You can use the speaker outdoors, rain or splashes won't hurt it, but submersion or prolonged exposure might be problematic.
It's big and bulky. Though it has a carry handle, so it's easier to transport.
The woofer and tweeter combo makes it fantastic for all kinds of music. If you are in the market for big sound and don't mind a bigger design as a result, you should consider the Bugani M83.
---
5. Oontz Angle 3 Ultra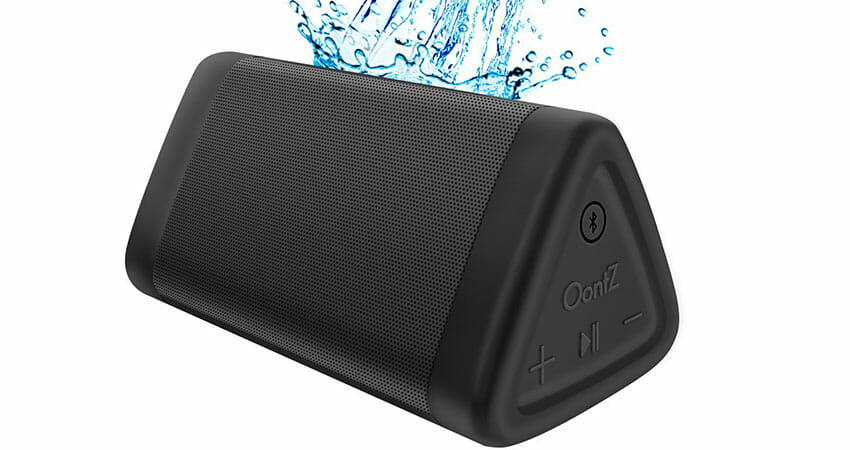 IPX6 Bluetooth Speaker
An affordable speaker with an intriguing triangle design.
Water protection: IPX6
Battery life: 20 hours
Power: 14 watts
Powerbank: No
The Good
The OontZ Angle 3 is an interesting design with angled speakers. It can play stereo sound, great for all types of music, but if you connect two together, they play left and right channels independently.
IPX6 protection means it can withstand splashing and rain, though it can't be totally submerged. This makes it a good choice for outdoor use.
20 hours of battery and voice control compatibility make this a fairly high-tech model.
The Bad
The bass is decent, but this speaker is prone to vibrating. On a surface, it can create a bit of an annoying buzz. Find a mat to put it on for the best results.
The sound is good, but not super high fidelity. It's an affordable speaker, so not one of the very top options for clarity.
If you are looking for long battery life and affordable outdoor speakers that can reliably be paired up, consider the Oontz Angle 3 Ultra.
---
6. Anker Soundcore 2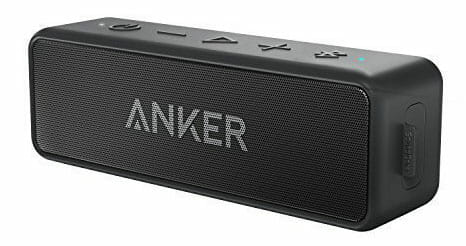 Great value IPX7 waterproof speaker
The Anker Soundcore 2 has caused quite a stir, with a great level of audio clarity at an affordable price.
Water protection: IPX7
Battery life: 24 hours
Power: 12 watts
Powerbank: No
The Good
If you love bassy music, Soundcore 2 is worth considering. The neodymium drivers give a rich bass sound with low distortion levels. A spiral bass port gives an extra boost to the low end. Perfect for bassy genres of music.
The IPX7 protection means it is suitable for outdoor use, even in the rain or when splashed with water.
You can pair two to create a stereo sound and double the power from 12W to 24W. 24-hour battery life also makes it one of the best at the price point for battery life.
The Bad
Without pairing, the waterproof Bluetooth speakers only provide monophonic sound. The sound may not be as clear.
Bluetooth connection is not as solid and reliable as some other models.
For clear, thumping bass, and a long battery life, the Anker Soundcore 2 could be a great choice.
---
7. AOMAIS Sport II+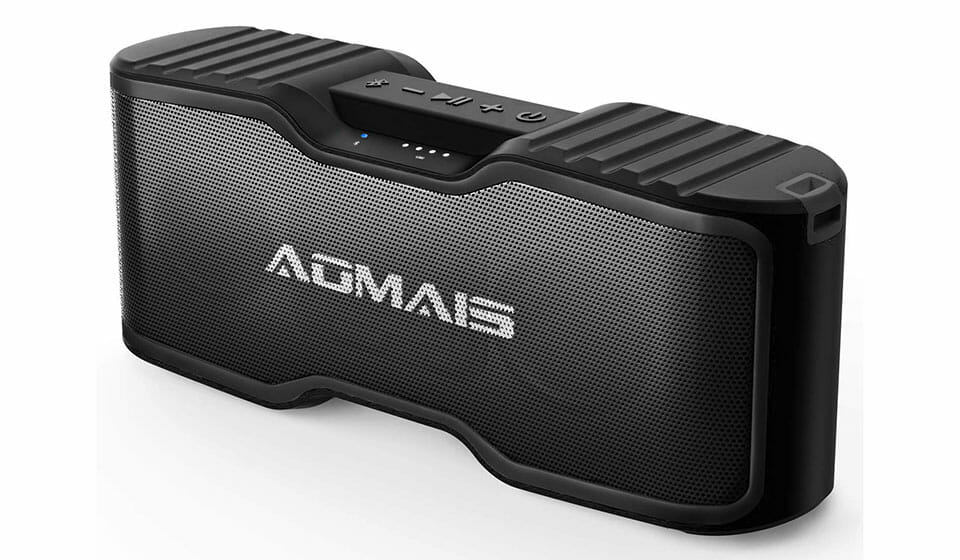 30-hour playback wireless speaker with Bluetooth
The AOMAIS Sport II+ speaker have long playback, power, and durable, rugged design.
Water protection: IPX7
Battery life: 30 hours
Power: 20 watts
Powerbank: No
The Good
If you're looking for long playback on a budget, you can get up to 30 hours with the AOMAIS Sport II+.
The sound is pretty powerful, with a 20W rating. You can pair this speaker with another identical speaker to make a 40W system.
100 feet of range and a reliable connection to any Bluetooth device is a plus point. IPX7 protection means they're weatherproof, too.
There's no bass boost, but the sound clarity is surprising for the low price point. Most songs sound fantastic through these.
The Bad
The 30-hour battery life is a positive but requires you to only play at 50% volume. The stereo pairing is not super reliable. The speakers can stop playing together after a while and need to be reconnected.
For the price, the playback length, and the reliable Bluetooth, they've become very popular. If 20W of power under $50 is appealing, check out more about the AOMAIS Sport II+.
---
8. Ultimate Ears Wonderboom 2 (floating Bluetooth speaker)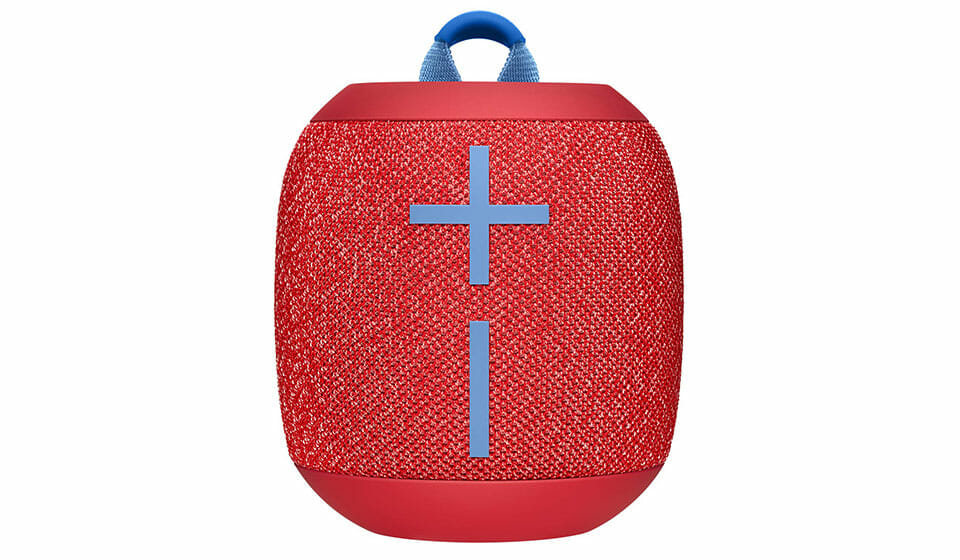 Best floating Bluetooth speaker
360 degree sound from a portable Bluetooth speaker, and it floats.
Water protection: IP67
Battery life: 13 hours
Power: Unspecified
Powerbank: No
The Good
360 degree sound is a bonus. It is growing in popularity. Many people love using 360-degree speakers outdoors so everyone can hear.
There's an outdoor boost button. It increases the loudness, though wattage is unspecified.
You can turn these into a stereo pair and have two floating speakers. They're perfect for pool parties or use in the bath or shower. There's a hanging loop so you can put this on a hook or anywhere convenient. IP67 protection means it's dirt and dust resistant, too.
13 hours of battery life is a decent level, though not amazing.
The Bad
The battery life can struggle if you're using it at full volume. You won't get the full 13 hours.
A rubber cover is needed for the USB port if floating. Don't forget or you could break it.
A floating, 360-degree speaker, is a cool variation to a lot of the speakers on this list. If you're looking for a Bluetooth speaker that is water-friendly, consider the Ultimate Ears Wonderboom 2.
---
9. Anker Soundcore Sport XL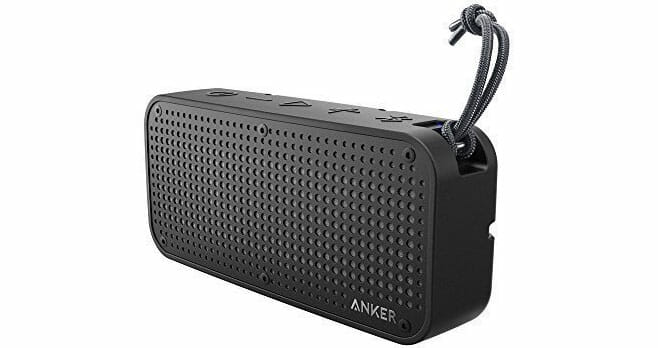 Another offering from Anker. The Sport XL is bigger than a lot of the other products, but it is still shockproof and portable, with solid volume and playtime.
Water protection: IP67
Battery life: 15 hours
Power: 16 watts
Powerbank: No
The Good
Although this is a bigger speaker, it's still shock-resistant. You can drop it, and it will probably be absolutely fine. A very durable model, this also has IP67 protection.
Though 16 watts doesn't sound huge. They really pack a punch, especially in the low end. Two subwoofers make the bass sound great.
It has an inbuilt microphone for using with voice commands.
The Bad
An annoying beeping sound can really get on your nerves. If you have to crank the volume high, it will start to beep.
The inbuilt controls can also be a little bit tricky to get the hang of. Moreover, 15 hours of battery life is good, but big speakers like this often have more.
Overall, if you are looking for a Bluetooth outdoor speaker that is rugged, and could survive a beating, the Anker Soundcore Sport XL is hard to beat.
---
10. Photive Hydra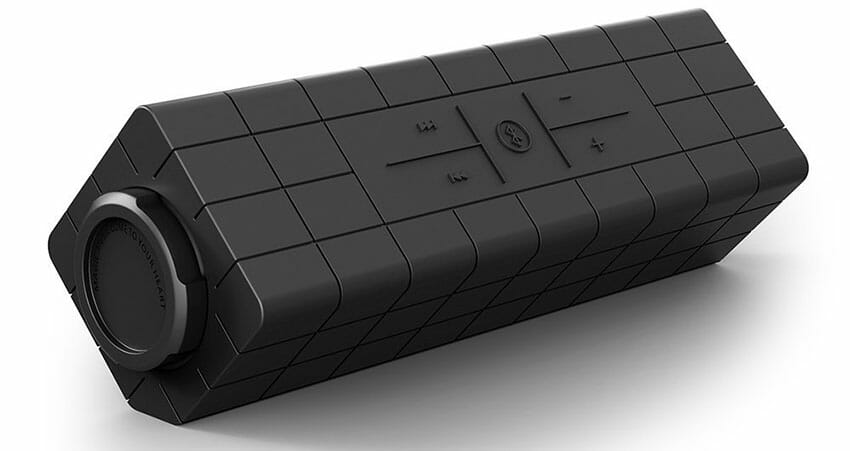 Enhanced bass Bluetooth outdoor speaker
If you love bassy music, the Photive Hydra includes subwoofers to help with the bass response and pack a low-end punch.
Water protection: IP66
Battery life: 8 hours
Power: 10 watts
Powerbank: No
The Good
Though only 10 watts of power runs through the Photive Hydra, the speaker still has a reasonable volume. Two 40mm drivers, combined with a sub, mean good volume and excellent bass response. Whether you want to listen to dance, hip-hop, metal, or rock music, you'll enjoy the low-end boost.
IP66 protection means it is fine for using outdoor in all sorts of conditions, including rain and snow. It's a rugged model but still weighs under 1lb.
The Bad
8 hours of battery life is a bit of a negative. Many of the other models on this list of the best Bluetooth outdoor speakers are higher. There's no battery life indicator either, so you don't know if it is going to die on you.
If you don't mind having to plug the speaker in every 8 hours and are keen to find the best bass sound, the Photive Hydra provides a good value option.
---
Honorable Mentions
Bose SoundLink Color II (check price) – Sounds good but has only 8-hour battery, IPX4 (only water resistant), and a hefty price.
---
What is aptX?
aptX is a Bluetooth codec that offers better sound quality.
It's a good thing to have.
Basically, if your music device; smartphone, tablet… and your BT speaker support aptX you will get better sound over the wireless signal.
Now you might not notice the difference if you're not an audiophile but most people do hear it.
Bluetooth transmission slightly damages the audio quality, aptX makes it almost non-existent with its efficient encryption.
Comments