Wireless
10 Best Wireless Headphones in 2020
These are the best wireless headphones you can get right now.
Comparison: Best Wireless Headphones
Do you want the latest and best Bluetooth headphones that offer fantastic sound quality, durability, and great user experience?
Headphones that you can enjoy in most situations without getting annoyed.
Wireless headphones can be great but many come with spotty Bluetooth connection, short battery life, and bad durability. You can pay top dollar and still get mediocre audio quality. It's not so easy to pick the top ones.
To help you out, check the list of the best wireless headphones below. It includes over-ear, on-ear, and in-ear headphones from popular brands.
You will get high-end quality with the best you can get from a modern pair of headphones in 2020.
---
For best wireless Bluetooth earbuds click here.
Want noise cancelling headphones, check the top models here.
---
Best Bluetooth Headphones
1. Sony WH-1000XM4 (best overall)
The overall best wireless headphones right now
How can you improve the perfect headphones? Sony just showed us how. With the newest version of their flagship WH-1000XM4 noise-canceling headphones.
Back design: Closed-back
Connection: Wireless Bluetooth
Foldable: Yes
Battery life: 38 Hours (30 with ANC on)
Why Buy These?
Sony WH-1000XM4 come with tons of features. Sensor for automatic play/pause, 360 Reality Audio surround sound, great Sony Headphones Connect app, Speak-to-chat, touch controls, DSEE HX audio processing, LDAC support, and many more.
Active noise-canceling on these headphones it works almost flawlessly. Forget about plane noise and construction work outside your office. It can even eliminate human speech. On the other hand, placing your palm across the right earcup activates the Ambient Sound mode.
38 hours of battery life, with 30 hours if the noise cancellation is turned on, is also well above average. You can listen to these for days without needing to search for a charger. Speaking of charging, 5-minute fast charge adds an extra 5 hours of playtime.
The Bad
Microphone quality is only average.
The Sound
The sound quality is fantastic. It can even compete with some audiophile headphones in detail retrieval and control. They're a joy to listen to with their deep low-end, lush midrange, and crispy treble.
Sony WH-1000XM4 offer a perfect mix of everything, making for an all-around best wireless headphones currently on the market.
Read the full Sony WH-1000XM4 review.
---
2. Bose Headphones 700 (best Bose)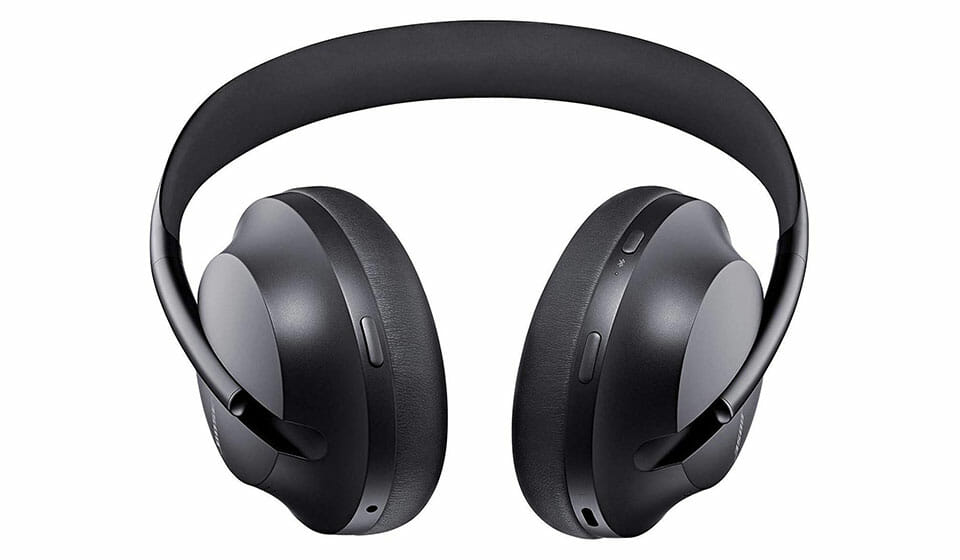 Best Bose noise-cancelling headphones
The Bose brand has an excellent reputation, and the Bose noise-cancelling headphones 700 are a great choice if you are looking to buy an elite product. They're the best Bose offering, and just fall slightly short of the Sony WH-1000XM3 in terms of total features.
Back design: Closed-back
Connection: Wireless Bluetooth
Foldable: No (swivel design for storage)
Battery life: 20 Hours
Why Buy These?
The padding is fantastic, and the design is minimal. If you like a sleek and unassuming design, then Bose has you covered.
You don't get a complicated touch control panel. You use the gesture pad instead. It takes some getting used to, but it's probably a better system overall.
Even using the active noise-cancelling (ANC), you get 20 hours of battery life. There is also a quick-charge function for when you forget to power-up.
The Bad
The noise cancelling is very good, but one of the issues is making phone calls. It can sometimes cut off some of the frequencies of your voice. Plus, they cost even more than comparable Sonys.
Bose employed new drivers. You get a strong and clear sound quality with wide frequency response, the sort we associate with Bose, a premium headphone manufacturer. The Bose 700 headphones are among the best wireless headphones right now.
---
3. Apple Airpods Pro (best for Apple)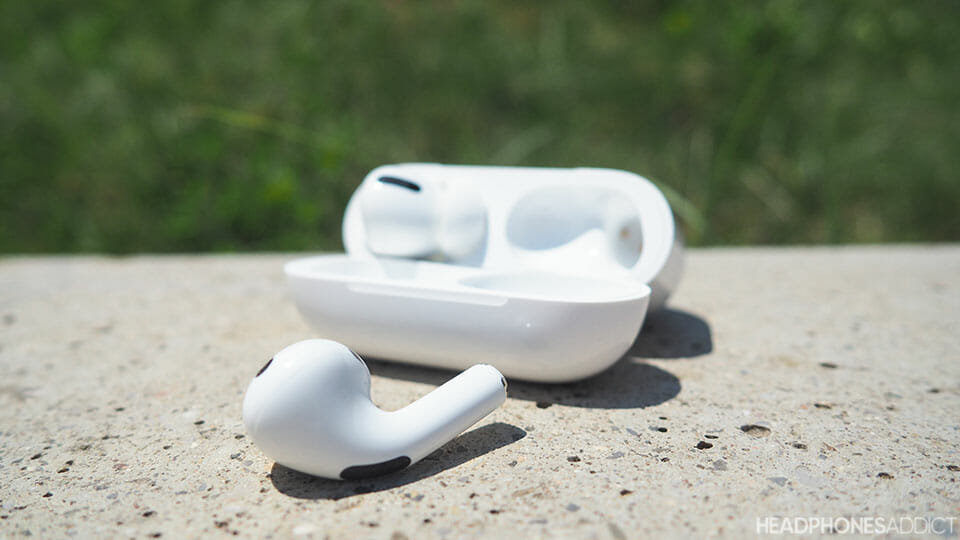 Best pair of wireless earbuds for Apple devices
Though the Apple Airpods Pro are good with other devices too, use them with iPhones and other Apple devices for best functionality.
Connection: Wireless Bluetooth
Foldable: No
Battery life: 20 Hours
Why Buy These?
You can always rely on Apple to keep innovating. They took a little while to get active noise-cancellation tech, but the Airpods Pro are very popular, and the tech inside is great. The Apple chipset is competitive with other high-end offers.
The true wireless earbuds connect easily to Apple devices, and the newer model has improved on one of the previous AirPod features, falling out. The former model was more likely to fall out during a strenuous workout.
24 hours of listening time is available overall. You can use the case to keep them safe and "juiced up." This is also a great way to keep them safe.
The noise-cancelling in earbuds, is pretty great. There's also a "Transparency" mode, so you can still hear the outside world if and when you need to.
The Bad
As with many Apple products, the price is premium. However, the AirPods Pro provide premium performance, too, though it can fall a little short with non-Apple devices.
The Airpods Pro are a big upgrade from previous Apple earbuds and are the best wireless headphones for active or casual Apple users.
Read the full review of the AirPods Pro.
---
4. Sennheiser Momentum 3 Wireless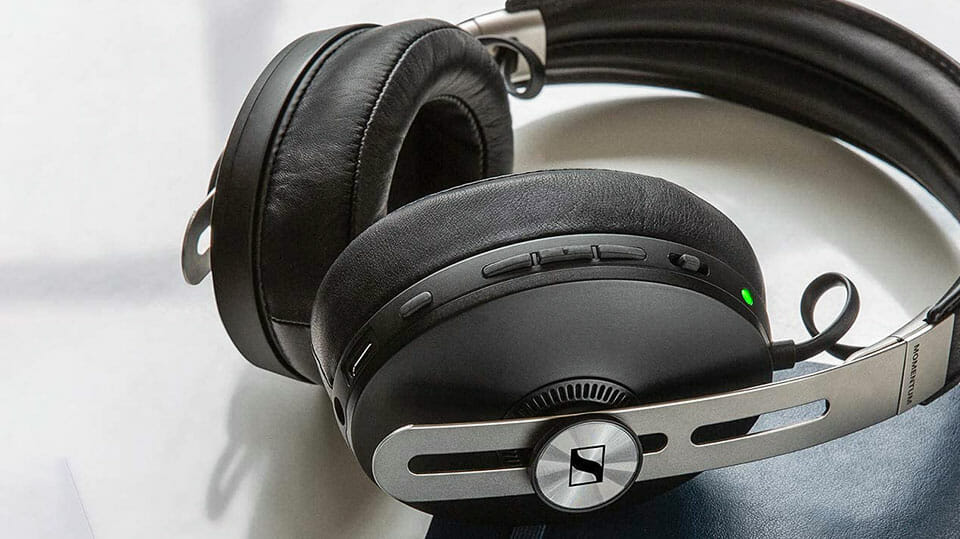 Best wireless headphones if you seek comfort, durability, and low-end rumble
Almost all of the biggest headphone manufacturers are making quality Bluetooth headphones. Sennheiser's Momentum 3 Wireless cans offer extremely rugged and comfortable build quality.
Back design: Closed-back
Connection: Wireless Bluetooth
Foldable: Yes
Battery life: 17 Hours
Why Buy These?
The two previous incarnations, the Momentum and Momentum 2 Wireless, have been big hits. The build quality is exquisite. There are oval ear cups with leather earpads and stainless-steel sliders on either side so that you can adjust the cups to fit your head.
The Momentum Wireless headphones also have a companion app. You can use this to alter the EQ and sound profile.
The build-quality means these are pretty large. However, they have a folding, collapsible design. This makes them far more portable. The cup size is pretty large, but they don't exert too much pressure on your ears.
The Bad
The 17-hour battery life falls a little bit short of some competitors, but it is still impressive. More than enough for most of us. They're also pretty costly.
The Sound
In terms of the sound quality, the active noise-cancelling, combined with a full frequency response and fairly powerful drivers, provide clarity, and untainted sound. These could even be used as studio headphones.
The Sennheiser Momentum 3 is another costly but impressive choice.
---
5. Bowers & Wilkins PX7 (best high-end)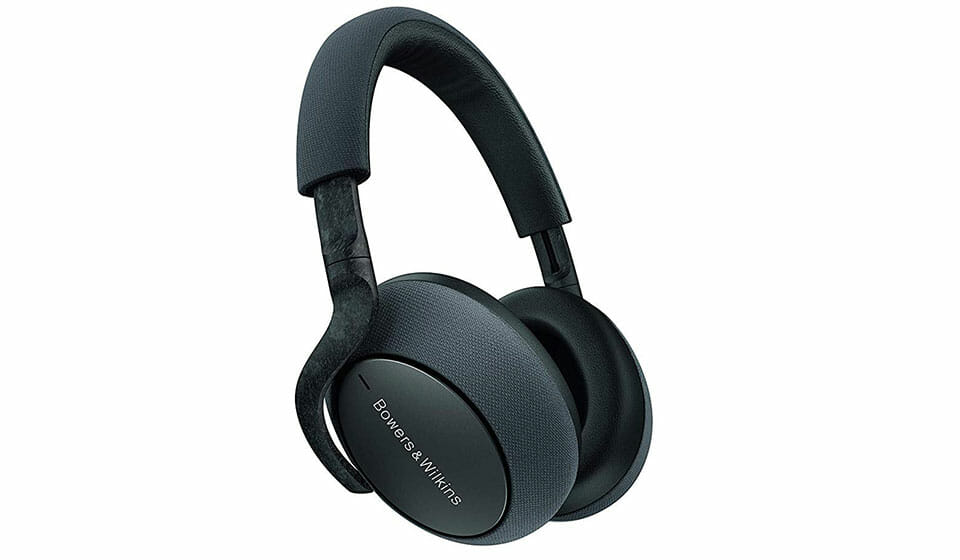 Best wireless headphones with high-end build
If only the top brands will do, Bowers and Wilkins could be worth exploring. Even the strictest audiophiles should be impressed by the PX7.
Back design: Closed-back
Connection: Wireless Bluetooth
Foldable: No
Battery life: 20 Hours
Why Buy These?
These are another set of cans with a minimalist look, with a matt black finish and comfortable over-ear design. They have a carbon fiber composite arm, which is a design inspired by race cars. Lightweight, but rugged.
Adaptive noise cancelling is a great feature, and these are flexible headphones. If you want to hear what's going on around you, you can lift one headphone, and the music stops. It automatically starts again when you place it back on your ear.
The 30-hour battery life is another huge plus point, as top manufacturers continue to push the amount of juice they can provide in a single charge.
The Bad
For high-end, you should expect high prices, and the PX7s are not cheap. Some might argue you would get better value elsewhere. If you don't need the carbon fiber design, this is probably true.
The Sound
You will struggle to beat the sound and features, however. 43.6mm drivers in the PX7 are the largest the brand offers, made with the same engineers as the Bowers & Wilkins 800 Series Diamond speakers, famously used in Abbey Road Studios. The balanced sound is among the best in the category, making all of your music sound great.
The Bower and Wilkins PX7s are an elite-sounding set of wireless headphones, with plenty of power and clarity.
---
6. Sennheiser Momentum True Wireless 2 (best earbuds)
The best true wireless earbuds
The Momentum 2 model offer an incredible level of sound quality as well as being small, comfy, and convenient. Not everyone wants big and bulky headphones to take around with them.
Connection: Wireless Bluetooth
Foldable: No
Battery life: 7 hours (28 hours with charging case)
Why Buy These?
Earbuds usually have a shorter battery life than over-ear headphones. The Sennheiser Momentum 2 earbuds offer 7 hours of battery, but this can be extended to 28 hours with the case.
One of the great things about these true wireless headphones is the level of comfort. They are a small, low-profile design, and even after hours of use, they should feel pretty comfy, and help you avoid ear-fatigue.
They have a lot of flexibility, too. The touch controls on each ear are customizable, and you can alter the EQ to suit your needs.
The Bad
Ideally, they'd be a bit more water-resistant. IPX4 is okay, but not amazing for earbuds, so if you are in heavy rain, they might get damaged. They're relatively expensive, but if you had the original Momentums, you can trade-in for a discount.
The Sennheiser Momentum 2 provide comfort, clarity, and flexibility, all in a tiny package. The clear and crisp highs, combined with well-rounded mids and low-end, make these a great-sounding true wireless earbuds.
---
7. Beats PowerBeats Pro (best bass)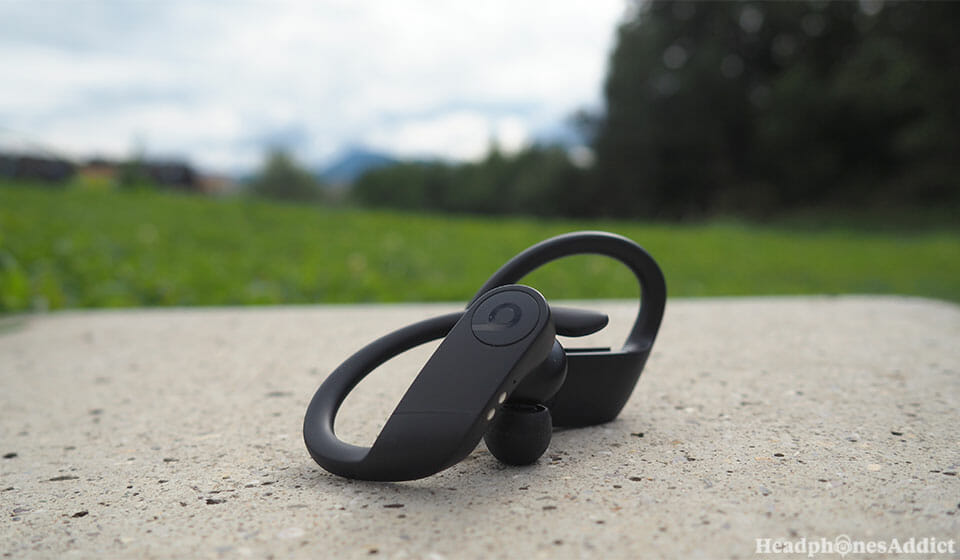 The best pair of wireless earbuds for bass
Beats headphones tend to divide opinions. Nobody can deny the fact that they are well-built, and that they are perfect for a boomy, bass sound, not everyone is looking for that. If, however, you are a total basshead, the PowerBeats Pro could be your best friend.
Connection: Wireless Bluetooth
Foldable: No
Battery life: 9+ hours (24 Hours with charging case)
Why Buy These?
The H1 chip inside these makes connecting to devices easy. You can connect to Apple devices with ease.
They come with a charging case, which is pretty big and bulky. The ear hook design makes the earbuds themselves bigger than most true wireless options.
Also, you get at least 9 hours of battery life from 90 minutes of charging. Multiple recharges in the case provide 24 hours of total battery life.
The hook design makes these an excellent choice for use in the gym or out for a run and other physical activity. They're very stable within the ear.
The Bad
Noise isolation isn't the greatest with these, but they are pretty loud, so you shouldn't find the outside world distracting, just be careful to protect your hearing. The bulky charging case may be annoying. And they aren't the most comfortable workout earbuds compared to alternatives.
For bassheads, the sound quality is fantastic. But the Beats PowerBeats Pro are a bit more sophisticated than some other true wireless earbuds in the Beats range, thanks to their balanced mids and highs.
Read the PowerBeats Pro review.
---
---
8. Jabra Elite Active 75t (best workout)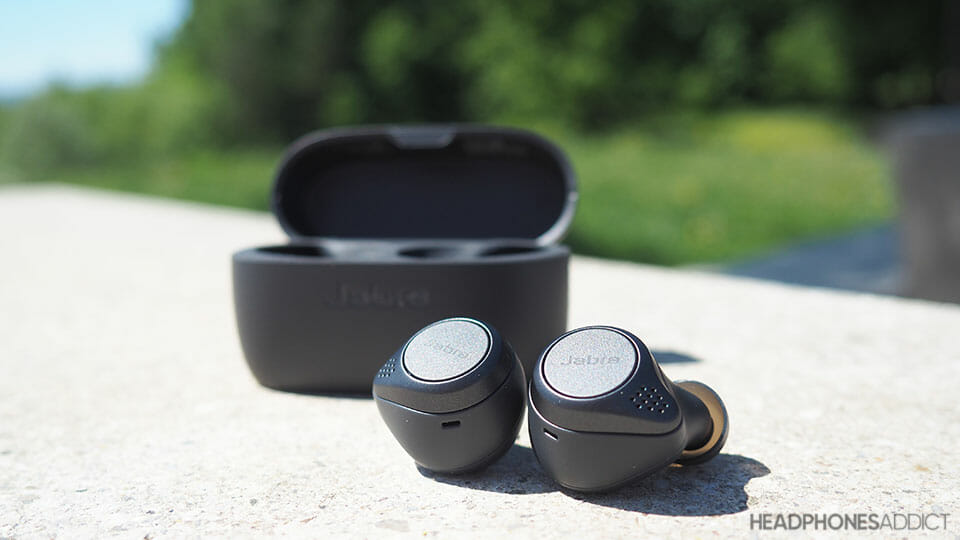 Best wireless earbuds for workouts
Good value, good Sound, and fantastic for workouts. The Jabra brand is growing, and the 75t model shows why.
Connection: Wireless Bluetooth
Foldable: No
Battery life: 7 hours (28 hours with charging case)
Why Buy These?
Jabra's 65t true wireless headphones were popular, but these are an improvement. They are slimline, comfortable, and have better waterproof protection (IP57). The sweat-wicking design makes them great for working out. Check great waterproof wireless headphones.
Plus, with HearThrough mode, you can let in ambient noise to keep you safe when running, for example.
The battery life is more than enough, with 7+ hours, but 28 in total, boosted through the charging case.
You can use the Sound+ app to alter and edit the EQ settings, too.
Sometimes with true wireless earbuds, you pay over the odds for a brand. Jabra is not like that. You get all of the features at a reasonable price. Less than AirPods Pro, for instance.
The Bad
They come with rather average Bluetooth strength. A thick wall will distort your music.
The sound is bass-emphasized, especially when not competing with outside noise. You can tailor your sound with an EQ app and enjoy the clarity and power of the Jabra 75t.
Read the Jabra Elite Active 75t review.
---
9. Sony WF-1000XM3 (best noise cancelling earbuds)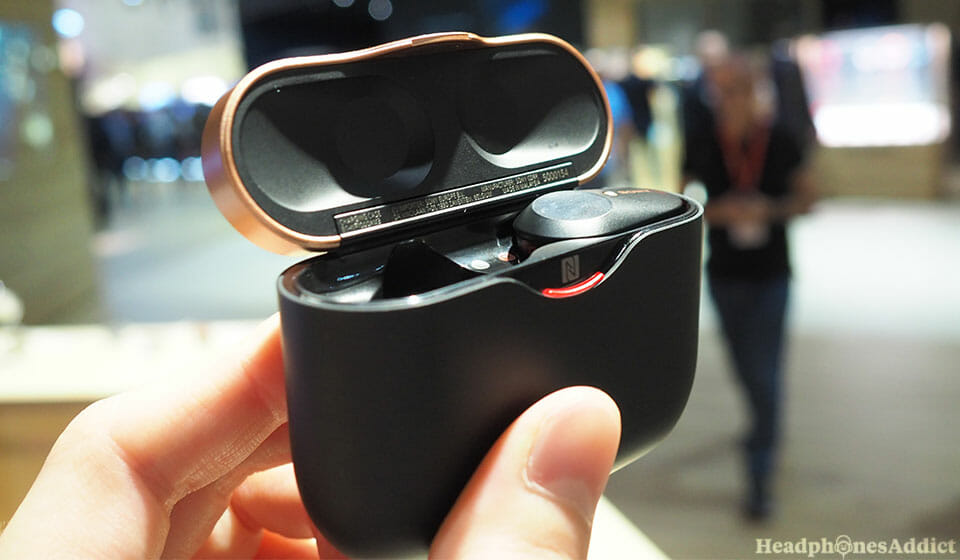 Best pair of wireless noise-cancelling in-ear headphones
For a comfortable fit and amazing noise cancellation, these wireless earphones do an incredible job of keeping secure and removing ambient noise. See the review.
Connection: Wireless Bluetooth
Foldable: No
Battery life: 6 hours (24 hours with charging case)
Why Buy These?
The earbuds are bulky but fit like gloves. The Tri-hold Structure focuses on the three points of your ear where support is required. It helps them stay securely in place. There are seven different tips included to choose from, too.
The active noise cancellation is possibly the best you will get from in-ear headphones. There's also an Ambient Sound mode if you want to let the external noise in.
With a free Sony app, you can customize your experience, from changing sound quality to controls and ambient modes. There're many options.
The Bad
Battery life is okay, but not brilliant. 6 hours may be enough, and 24 is plenty if you are happy to keep using the wireless charging case, but it's short of some competitors. The Bluetooth streaming is 99% reliable but might have the occasional short glitch.
Over time, you can feel the bulk in your ears.
The crisp and versatile sound of the Sony WF-1000XM3 is a huge plus. The snug fit and active noise cancellation definitely help with this. If you want well-rounded sound, then these could be a great choice, they're not overly bassy, but they give a clear and wide frequency response.
See the Sony WF-1000XM3 review.
---
10. Skullcandy Crusher (monster bass)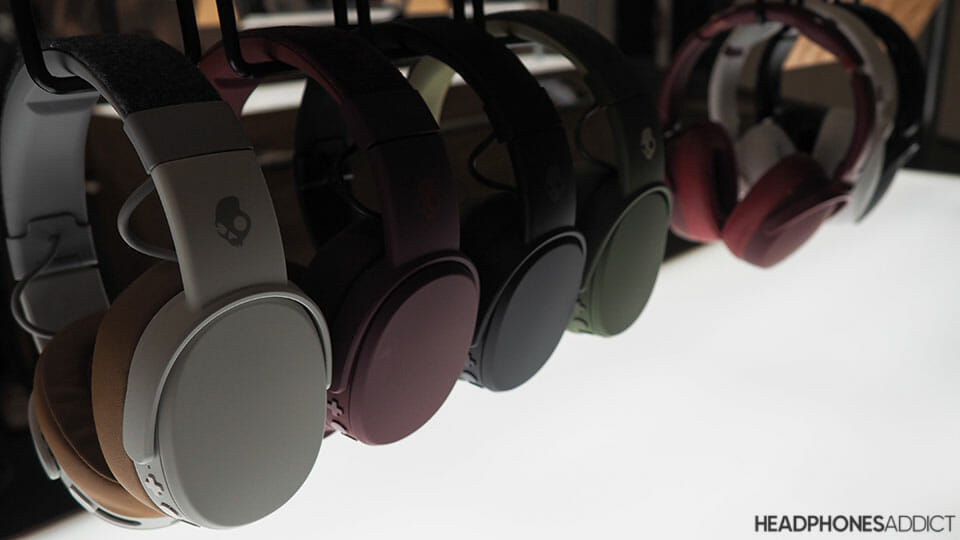 Best wireless headphones for bassheads
They may not be an audiophile's choice, but for big, booming low-end on a budget, the Skullcandy Crusher headphones are the right choice.
Back design: Closed-back
Connection: Wireless Bluetooth
Foldable: Yes
Battery life: 40 Hours
Why buy these?
These are chunky wireless headphones, but they are also quite hard-wearing. The large design helps them give more of a booming bass sound, but they also fold up for convenience.
A standout feature is the bass slider. It's unusual to get a feature like this, but not unwelcome as the Skullcandy gives more control over bass levels and "haptic bass." If you turn it way up, you just get a muddy noise, but it is still good to be able to tweak.
Battery life at 40 hours is obviously another big plus point. If it does run out, you can connect with a 3.5mm cable instead.
The Bad
The sound clarity is not the greatest, and some of the mids and highs go missing as you increase the low-end rumble. For music, you may want to keep a lot of these frequencies in an ideal world.
The sound isolation is pretty weak. It just relies on volume. Also, they're prone of getting scuffed up.
Skullcandy Crusher aren't audiophile-level, but suitable for casual listeners, and great for those who truly want to feel the rumble of bass. The Skullcandy Crushers are good fun.
---
Honorable Mentions
JBL Live 650BTNC: are active noise cancelling headphones with 40mm drives that cost around MSRP $150. You get signature JBL bass-boosted audio for 20 hours per charge in a comfortable and foldable design. Check price
V-Moda Crossfade 2 Wireless: These are great sounding wireless headphones with rich Bluetooth codec support (aptX, AAC, and SBC). You get over 14 hours of battery life but without noise cancellation for a high-end price of around MSRP $350. Check price
AKG Y500: make for great wireless on-ear headphones with a foldable design. With the auto-pause feature, you don't have to manually press buttons when you take them off. Plus, they support multipoint connection and offer over 30 hours of battery life (and wired). Check price
FAQ: Frequently Asked Questions
How Long is Battery Life in Wireless Headphones on Average?
On-ear and over-ear wireless headphones come with larger batteries. They last from 20 – 40 hours per full charge.
Earbuds or in-ear headphones are smaller and thus fitted with lower capacity batteries. You can expect anywhere from 5 to max 10 hours per charge. True wireless earbuds also come with a charging case that extends the battery life considerably (to 20 – 30 hours altogether).
Do Wireless Headphones Work Well for TV?
The modern Bluetooth headphones are great for watching TV as long as your TV supports Bluetooth.
Though it's true older BT models often come with bad audio lag that makes them unusable.
The new models don't suffer from the same problems thanks to advances in Bluetooth technology.
You can check dedicated headphones for watching TV.
Do Bluetooth Headphones Work with a Desktop PC or a Laptop?
Yes, if your PC and laptop support Bluetooth (most modern laptops do). Though PCs often don't, check yours to be sure.
How Durable are Wireless Headphones?
At least as durable as wired headphones. There is no significant difference. You should look at the build quality of each respective model.
You can get them fully waterproof with IPX7 and even dustproof IP5X protection. If you want to use them for activity, that's highly advisable.
What are the Best Headphones for Running or Working Out?
Choose smaller in-ear earbuds that are easier to wear during movement. Plus, they're often water-resistant and come with activity-friendly features.
See the best workout headphones or earbuds.
How Much Should You Spend on Wireless Bluetooth Headphones?
Best wireless headphones cost from $300- $400 for over-ear and on-ear models.
The earbuds cost around $200-$300. Keep in mind, you're paying a premium price for the latest and greatest.
To get the most value for your money, look at cheaper headphones under $200 or even $100.
Comments