Earbuds/IEMs
10 Best Bluetooth Earbuds in 2017 (sports, noise-cancelling and budget models included)
Enjoy flexible wireless sound anywhere you go with these top rated Bluetooth earbuds.
What are the best Bluetooth earbuds on the market right now?
Check the comparison table below for some quick info…
… or read the in depth reviews of each model.
Looking for top Bluetooth headphones instead? Click here.
Earbuds with best comfort reviewed.
The models picked here are only the most popular and best rated Bluetooth in-ear earbuds you can get right now.
Comparison Table: 10 Best Bluetooth Earbuds
Best for
Picture
Model
Rating
Price
Battery
Mic &
Remote
Sweat
Resistant
Noise
Cancelling
aptX

i

Bluetooth sound transmission codec. Needs to be supported on playing device too.

TOP OVERALL





Sennheiser HD1
In-Ear Wireless
4.0
$$$$ ($120-$200)
10h
Review
BEST SPORTS




Bose SoundSport Wireless
(best sport model)
3.9
$$$$ ($120-$200)
8h
Review
BEST BEATS




BeatsX Wireless
3.8
$$$$ ($120-$200)
8h
Review
RUNNER-UP




Sony WI1000X (NC)
4.5
$$$$$ ($200-$300)
10h
Review
BEST VALUE ANC




Phiaton BT 220 (NC)
3.9
$$$$ ($120-$200)
16h
Review
BEST STYLE




V-Moda Forza Metallo Wireless
3.3
$$$$ ($120-$200)
10h
Review
BEST BATTERY




LG Tone Studio HBS-W120 (+personal speaker)
4.1
$$$$ ($120-$200)
35h earbud mode
6h speaker mode
Review
BEST UNDER $50




Brainwavz BLU-100
3.5
$$ ($30-$80)
4h
Review
BEST UNDER $100




Sony MDRXB70BT
3.8
$$ ($30-$80)
9h
Review
BEST BUDGET





VAVA Moov 28
4.4
$ (<$30)
8h
Review
Best Bluetooth Earbuds Reviewed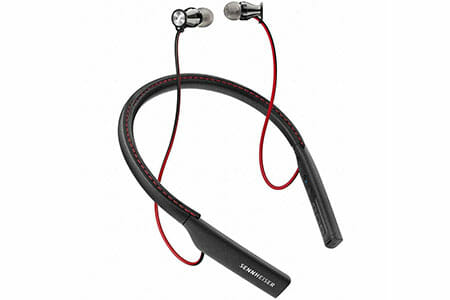 Sennheiser HD1 are the best wireless Bluetooth earbuds right now (in our opinion).
These are a brand new release from Sennheiser. Basically they are the new version of Momentum in-ear but as wireless earbuds.
Since Sennheiser allegedly can't use the name "Momentum" they changed the name to HD1 for a whole serious of their models.
The name change isn't really important, but what's important is what these bring to the table.
And honestly, these come the closest to audiophile standards of sound quality in a wireless Bluetooth earbud design.
There's basically no difference in sound between wired and wireless models.
PROS
Great sound quality, balanced, audiophile friendly
Durable and ergonomic design
Fancy looking with real leather
Good Bluetooth performance
2 year global warranty
CONS
Could give more accessories for the price
Not officially sweat-proof
What's in the box?
Sennheiser HD1 Wireless in-ear earbuds
4 pairs of silicone eartips (XS, S, M, L)
Micro-USB charging cable
Hard carrying case
User manual
Fit (Isolation)
The fit of HD1 in-ear wireless earbuds is stable and secure.
The earbud design is the same one from the previous models and it works well.
Find the right size eartips and you'll get good passive noise isolation and comfort.
You'll have a hard time hearing traffic or subway voice messages if you're using public transport.
The only thing you'd expect is a better selection of eartips since these are premium wireless earbuds with a "suitable" price. A lot of other brands give foam eartips with cheaper models.
Nonetheless, the 4 pairs of silicone eartips do a good job, but for an even better experience get some Comply foam tips.
Durability (Sweat-Resistance)
As is usual for Sennheiser, the HD1 wireless in-ear earbuds are well built out of premium materials.
The headband is covered with fancy sheepskin leather that gives them a premium look. The plastics are durable and made to last.
The cables are still round but slightly flatter. The only weird thing is that they come out of the bottom of the neckband instead of the top.
The only "problem" is these aren't sweat-proof. You can understand this since they're not made for sports, but there are many alternatives for less money that do have some IPX rating.
Probably the leather made it very hard to make them resist sweat.
Nonetheless, these are still Sennheiser so even if there's no official sweat protection a bit of rain or sweat won't kill them easily.
Bluetooth (Battery)
HD1 in-ear wireless use Bluetooth 4.1 which performs very well.
You'll get above average range with no sound distortion.
When y0u get out of range the sound just cuts out.
It's super easy to pair them up since they have NFC. You can pair them to 2 devices at the same time.
The battery life stands at solid 10 hours. It's not the best but comparable Bluetooth earbuds offer similar battery life.
The charging takes only 1.5 hours to full charge which is a bit faster than usual. It's all done by Micro-USB cable which you get as an accessory.
Controls
The controls are built-in in the left end of the neckband.
The buttons are easy to press and quite intuitive.
You can control the usual functions, play/pause, song selection, volume, power on/off and calls as well as connecting.
The LED indicator tells you the status of the wireless earbuds (pairing and power status).
When you get a call the left neckband end vibrates, it's not super strong so if you're wearing a thick neck-long sweater you will barely feel it. But this is probably for the better since aggressive vibration can be quite annoying as we know from other models.
In the package you also get a nice hard carrying case. It's big enough to store the HD1 Bluetooth earbuds, all the accessories and extra earbuds if you need them.
Sound
Sound quality of the Sennheiser HD1 in-ear wireless earbuds is probably their biggest selling point.
It's great sound.
The closest to audiophile standard from Bluetooth earbuds.
The sound signature is balanced with none of the ranges jumping out. Keep in mind this might not be to the liking of all people.
If you like strong bass these might not be the best for you since they're balanced.
Overall, the highs are very detailed and clear. Almost no sibilance even at higher volumes.
The mids are rich and nicely bridge between treble and bass.
The bass has a nice punch and detail but isn't super strong or overpowered which makes them unsuitable for bassheads.
Soundstage also doesn't disappoint. You'll be able to hear the spacing of sounds much better than with most other wireless Bluetooth earbuds.
These support AAC and aptX codec for high quality Bluetooth transmission. Qualcomm has released aptX HD but none of the manufacturers seem to have used it yet so that's not a big problem.
These are great sounding, audiophile-like Bluetooth earbuds that still offer a lot of fun sound even to an average user.
In the end, considering what is on the market right now, Sennheiser HD1 in-ear wireless earbuds are the best combination of durability, comfort, features and sound you can get from Bluetooth earbuds.
---
If you like Apple design and simplicity, then get the BeatsX wireless earbuds with good audio while looking cool.
PROS
Lightweight & flexible
Good audio without too much bass
Super fast pairing with Apple devices
Secure fit
8-hour battery life with Fast Fuel recharge
CONS
Battery longevity issues with some early models
Cables can be too long for some users
No track advance option with remote control buttons
What's in the Box?
BeatsX Wireless In Ear Headphones
USB charging cable
Four sizes of eartips
Two sets removable Secure Fit wingtips
Carrying pouch
Quick Start guide
Fit (Isolation)
Good noise isolation and secure fit with the right eartips.
A good fit can be easily achieved by selecting one of the four different sizes of soft eartips included with the Beats X wireless earbuds.
Choosing the right tip will not only keep the earbuds in your ears, but it will also block out more outside noise and provide better sound quality.
Two sets of removable Secure Fit wingtips give you an additional option for keeping the earbuds secure in your ears.
Passive noise isolation is good, especially since the Beats X uses a closed back case design.
The lightweight and soft cable construction allows the small neckband to drape around your neck.
The rubberized cable coating has a good grip that keeps the cable from sliding around. This makes these wireless earbuds good for a variety of activities.
The only downside is that runners and weightlifters may have trouble with the longer cables and neckband arrangement.
Comfort
Soft cables and ergonomic fit makes for a comfortable design.
Beats X wireless in-ear headphones are soft, comfortable, and easy to wear for most of the day.
The earbud design is fairly ergonomic, so it fits the ear quite well.
However, some users may notice pressure points depending on how the earbuds are positioned and the shape of the ear.
While some earbud cables can be stiff and move around in an irritating way, the BeatsX cables do not do that.
The cables feel good resting against the skin and you barely notice it is even there.
One minor downside is that there isn't any cable management, although the backs of the earbuds are magnetic so they can stick together when you aren't using them.
Durability
Reliable operation in a quality-built package.
These wireless earbuds are super flexible and easy to carry in a pocket or case.
A carrying case is not provided with the Beats X, which seems strange for a premium product. You can always get a quality third-party clamshell case or other soft pouch.
Physical construction and durability is good. The slim profile of the remote and electronics along the cable feel like they will hold up well.
Some users have reported early battery failure. This is likely a quality control issue during manufacturing so later models should be just fine.
Apple provides good support for this product so be sure to note any issues and promptly request a replacement if anything goes wrong with your new BeatsX.
One other thing to know is that the assembly is not rated as waterproof. These might not be the best earbuds for activities in wet or humid environments.
Bluetooth (Battery)
"Fast Fuel" delivers 2-hour charge in 5 minutes.
Beats X wireless in-ear headphones pair super fast with Apple devices. They also work well with other mobile electronics.
Bluetooth range is very good, and you should be able to expect reliable performance well beyond the standard 30 feet (9 meter) range.
The built-in battery on the Beats X will last about eight hours on a single charge.
A Fast Fuel recharge allows you to get two hours of playback time on a 5-minute charge. A full charge can be reached in about 45 minutes.
Since Beats X is an Apple product, it uses a lightning to USB cable for charging.
Controls
Quality in-line remote control but no track controls.
The in-line remote control for the Beats X wireless earbuds is simple and intuitive.
Buttons provide a positive click and good tactile feedback.
3-button controls on the left are for volume up/down and a multi-function button for play/pause, call answer, and power.
You should note that there is not currently an option for skipping tracks. It would be nice if this was included, so maybe it will happen with a future update.
A button on the right is for Bluetooth pairing.
The microphone is in a good spot to allow clear voice communication when taking phone calls.
Sound
Balanced audio quality that isn't too heavy on the bass.
The sound signature of the Beats X earbuds is surprisingly less bass-heavy than other products in the Beats family.
The bass is still very punchy and well represented, but it isn't too saturated or overcompensating.
Highs provide a good amount of air and space in the mix.
Mids are forward enough to deliver power and body for a variety of music styles.
If you've previously avoided Beats because of the bass response of other models, it will be worthwhile to explore how the latest Beats X model sounds.
BeatsX wireless in-ear headphones offer simple Apple style, lightweight and comfortable construction, and a surprisingly balanced sound.
---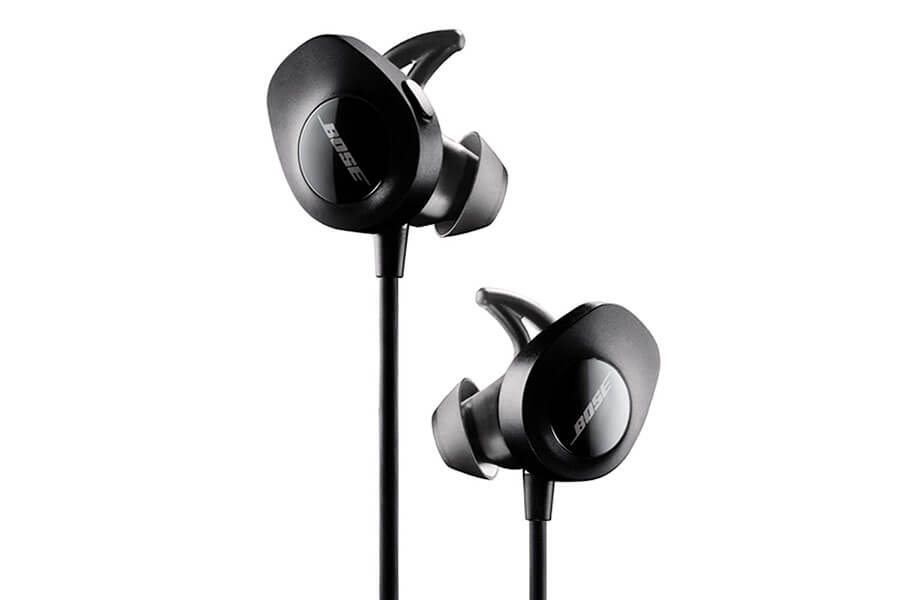 PROS
Very comfortable and stay in place well
Signature Bose sound quality with good bass
3 sizes of soft StayHear ear tips
Good sweat and moisture resistance
CONS
Shorter than average battery life (~6 hours)
Max volume may be lacking for some users
Larger earbud casing sticks out from ear
Button feedback on controller can take time to get used to
The latest SoundSport Wireless earbuds from Bose build on the success of previous models and offer great sound quality.
These Bluetooth earbuds are consistently ranked as #1 or #2 in the workout and activity categories, depending on whom you ask.
Fit (Isolation)
There are three different silicone eartip sizes to choose from, and the Bose "StayHear" eartip technology allows these earbuds to stay in place pretty well.
However, the bulky size of the earbuds can be a problem for those with smaller ears or are worried about the earbud sticking out too far.
Note that these are not active noise cancellation headphones.
Passive noise isolation is average at best. These earbuds will not block out a lot of ambient noise, and there will be a little bit of noise bleed from the headphones themselves.
Comfort
Despite their large physical size, the Bose SoundSport earbuds are quite comfortable.
While they don't really get any points for style, it is possible to wear these for several hours in the gym, around the house, or on a run.
The lightweight controller and wire connecting the earbuds is well designed and is not a nuisance.
These are definitely one of the most comfortable earbuds out there.
Durability (Sweat-Resistance)
The SoundSport earbuds are fairly robust, especially when it comes to moisture and sweat resistance.
They are made of plastic, so keep that in mind when tossing them around in your gym bag.
Using the included carrying case (which is pretty nice by the way) will help keep these wireless earbuds lasting longer.
The only major downside with durability is that the plastic around the power button can crack or break if pressed too hard.
Best-rated running headphones guide.
Bluetooth (Battery)
This is the category where the SoundSport Wireless comes up lacking.
With only 6 hours of battery life between charges, these are nowhere near the longest lasting wireless earbuds.
However, a 15-minute charge will provide an hour of playback time.
Some users have also reported that the actual battery life can be as much as 7 hours, so your experience may vary a little bit.
The wireless range is average (30-50') and pairing with other Bluetooth devices is easy.
Controls
The inline controls on the Bose SoundSport Wireless are sleek and lightweight.
The large volume up/down buttons are easy to find. But the power button is rather small and harder to press. This can cause frustration for some users.
Users expecting a "click" or some sort of tactile response from pressing the buttons will find that feature less than ideal on the SoundSport.
Talkback functions work fine for accepting calls, but like a lot of wireless earbuds, the built-in microphone quality isn't amazing.
Sound
The signature Bose sound quality is what makes these wireless earbuds a top pick on so many lists.
While the sound signature is certainly not flat, it isn't overly saturated with excessive bass either.
Lows are warm, punchy, and easy to love.
The mids are well represented without being overly present.
Highs are crisp, but can become tinny when the volume is pushed to louder levels.
It should be noted that there is a firmware upgrade option that will certainly change the sound signature and maximum volume of the SoundSport earbuds.
The upgrade option does allow for a louder volume, but it may come at the expense of some of the high frequency quality and possible distortion.
Overall the Bose SoundSport Wireless sound quality is great for the average listener. Audiophiles and extreme bassheads may wish to check out some other alternatives.
(summary & call to action)
The Bose SoundSport Wireless earbuds sound great, are very comfortable to wear, and consistently work well.
Even with a rather short battery life of about 6 hours, these Bluetooth earbuds are still a top rated contender.
---
There is a lot of impressive technology packed into this set of Sony WI-1000X/B premium noise cancelling wireless earbuds.
This is a set of premium Sony wireless earbuds with lots of neat features and a pretty steep price. But that's the case for all latest technology, you have to be willing to pay more.
If you don't mind that, keep reading…
PROS
Outstanding noise cancelling quality
Great audio quality
Good mobile app control
Ambient Sound enhancement option
10-hour battery life
CONS
Not water resistant
Not good for working out or lots of activity
What's in the Box?
Sony WI-1000X/B Premium Noise Cancelling Wireless Earbuds
USB charging cable
Analog audio cable
Airline audio adapter
Four pairs of silicone eartips
Three pairs of Comply foam eartips
Soft carrying pouch
Instruction guide
Fit (Isolation)
Excellent noise cancelling technology and easy to wear.
There are lots of eartips that come with the Sony WI-1000X/B Bluetooth earbuds.
Four sizes of silicone eartips and three sizes of Comply foam eartips allow you to select the right size for your ears.
At first glance it seems like there are a ton of options included, but that is good since you'll be able to get just the right fit for you.
While the fit of the earbuds is good, these aren't designed for working out or lots of running around.
The neckband can bounce around if you are jogging, and the earbuds could fall out with a lot of head movement.
The passive noise isolation for these earbuds is ok, but you will still hear a little bit of sound when the active noise cancelling feature is not on.
The noise cancelling technology is very good, especially for a set of earbuds.
The Sony Headphones Connect mobile app is available to help you customize the noise cancelling controls.
Engaging the Ambient Sound mode allows you to hear surroundings without taking the headphones off.
Comfort
Neckband design is comfortable and lightweight.
These wireless earbuds are very comfortable.
The only thing you might need to get used to with the Sony WI-1000X/B noise cancelling earbuds is the neckband.
A battery and ANC electronics are enclosed in the neckband and there are small wires that connect the earbuds to the neckband.
The neckband is trimmed with soft synthetic leather, so it is very comfortable and doesn't irritate the skin.
The earbuds feel lightweight and the adjustable cables allow for good range of motion when turning your head.
Durability
Solid construction quality and built-in cable management.
The materials and construction of the neckband are high quality and feel like they are built to last.
A cable management groove is built into the neckband so that the earbud cables can be inserted and gently folded over to keep the earbuds from getting tangled.
There is a soft case provided to help protect your headphones when packing them away.
You'll just want to make sure the earbuds and neckband cables don't get caught on anything when you put them in a bag without the included carrying pouch.
Bluetooth (Battery)
Convenient NFC pairing with a 10-hour battery life.
Bluetooth range is average for the Sony WI-1000X/B wireless noise cancelling earbuds.
You can expect to get about 40 feet (12 meters) from your phone or other Bluetooth devices.
But you may be able to maintain connectivity for up to 60 feet (18 meters) within line of sight.
Bluetooth NFC pairing mode is quick and easy to use.
Sony supports LDAC and aptX HD so that you can have a high quality listening experience.
These earbuds have a very good 10-hour battery life when the noise cancelling feature is turned on.
Controls
Useful mobile app control for advanced features.
All of the controls are built into the neckband.
The noise cancelling mode button is conveniently located near the right side tip of the neckband.
Power on/off, volume, and play/pause buttons are located on the inside left portion of the neckband.
Microphones are included on each earbud to provide very clear communication when using these earbuds for phone calls.
A special headphone jack and cable are included so that you can use these earbuds in hardwired mode or connect to airplane in-flight audio systems.
A micro USB connector and cable is provided for charging the built-in battery.
One of the highlights of these earbuds is the mobile app control option.
The Sony Headphones Connect app lets you control the noise cancelling features, dial in the sound quality, and help you fine-tune the ambient listening mode.
Sound
Dual driver design for great sound quality and Hi-Res Audio.
Sony WI-1000X/B wireless noise cancelling earbuds pump out some excellent sound quality.
These headphones aren't going to be a great choice for bass heads, but these are some very respectable earbuds when it comes to sonic clarity.
Sony uses a hybrid approach to delivering sound with these earbuds. A 9mm dynamic driver is used for the lows and a balanced armature is used for the highs.
The bass is rich and punchy. Vocals are super clear. And high frequencies have plenty of depth.
Overall quality and performance is good with or without noise cancelling turned on.
There is even an Atmospheric Pressure Optimizing circuit to provide greater clarity when using these wireless earbuds on a plane at higher altitude.
If you need noise cancelling headphones in an compact format, then the Sony WI-1000X/B wireless noise cancelling earbuds are an excellent choice that sound great and will deliver exceptional performance.
---
V-Moda Forza Metallo wireless in-ear earbuds combine well styled design with respectable audio performance in a wireless package.
If you like to look different and special, these a great choice with unique metal earbud caps you can change the look and style easily.
PROS
Low profile & lightweight neckband
Very clear sound quality
Sweat-proof design
10-hour playback time
CONS
Max volume may not be loud enough for some
Not good for intense workouts
What's in the Box?
V Moda Forza Metallo wireless earbuds
USB charging cable
Three sets of Active Flex Sport Ear Fins
Four sets of BLISS 3.0 silicone eartips
Soft storage pouch
Warranty card
Fit (Isolation)
 Detachable ear fin design that is good for running.
The fit for these earbuds is quite good, especially when using the new Active Flex Sport ear fins.
The ear fins are detachable and there are three different sizes included so that you can get the best fit possible.
By using the ear fins you are able to keep the earbuds in your ears when running or working out.
Just know that these might not be the best for super intense workouts or weight lifting because the neckband could slide around or get in the way.
Four sets of V-Moda's BLISS 3.0 fittings (eartips) are included to help you achieve a good fit in the ear. BLISS stands for Bass Level Isolating Soft Silicone.
Sound isolation for the V-Moda Forza Metallo wireless earbuds is ok, but they don't fit tight enough to block out louder conversations or heavy commuter traffic noise.
Comfort
Thin and lightweight titanium neckband design plus soft eartips.
The ergonomic titanium neckband design is not only attractive and low profile, it is also very lightweight.
A thicker rubberized cable comes out of each side of the neckband to gently hold the neckband in place.
These TrapLock wires also contain the remote control and microphones.
The entire assembly for these earbuds only weighs 0.79 ounce (22.5 grams), and it's easy to forget that the neckband is even there.
The earbud cables that connect to the neckband are very thin and long enough to wear up and over the ear for many users.
Several sets of V-Moda's soft silicone eartips are included to help you get a comfortable fit in the ear.
Check headphones safe for kids.
Durability
Excellent physical build quality that is sweat proof.
The physical construction of the V-Moda Forza Metallo wireless in ear headphones is excellent. They look good and feel sturdy, even though they are lightweight.
The thin cables that attach to the earbuds can seem a bit fragile, but they hold up very well to regular use.
A water proof and sweat proof design for the neckband electronics makes these a great choice for runners or those doing a lot of activities outside.
There are some users that have had issues with Bluetooth connectivity, but these are not wide spread reports.
V-Moda offers a good one-year warranty on these headphones, so you can get any issues resolved should there be a problem.
A soft carrying pouch is provided to help protect the earbuds, but it isn't anything that is super robust.
Bluetooth (Battery)
 10-hour battery life with quality aptX support.
The battery and Bluetooth electronics are located in the titanium neckband.
A 10-hour battery life provides plenty of listening time, and a 15-minute quick charge gives you another two hours of playback time.
Bluetooth range is good for up to 33 feet (10 meters).
The aptX codec support with these V-Moda Forza Metallo wireless earbuds means that you can listen to high quality music without a lot of compression or distortion.
Controls
Dual microphones and a 3-button remote control are built-in.
The TrapLock titanium neckband extends with a three-button remote on the right side and a power button with status indicators on the left.
A microphone is located on each tip of the neckband end pieces. These provide great quality calls, as long as the microphones are not under clothing.
The neckband also vibrates when alerts come through your phone. The vibration alert is constant for the duration of the alert and does not pulse.
Sound
Crystal clear audio that is loud enough for most listeners.
These V-Moda wireless earbuds sound great with their 5.8mm high definition drivers.
Highs shine through really well, but they don't get too sharp or shrill.
The bass is full and rich, especially when you select the right eartips and get a good seal in your ears.
While these earbuds should be plenty loud enough for most users, a few people have complained that the maximum volume is not loud enough.
The volume issue could be an issue with getting a good seal in the ears.
If you like your music really loud, then these earbuds will be safe for your ears but maybe not the loudest.
V-Moda Forza Metallo wireless in ear headphones deliver great performance with a very stylish design and a super comfortable yet rugged titanium neckband that is great for light workouts, commuting, and everyday listening.
---
The LG Tone Studio HBS-W120 – Wearable Personal Bluetooth Speaker is a very creative option if you want to take your music on the go without wearing earbuds.
PROS
Wearable external speaker + earbuds
Amazing battery life (up to 35h)
Reliable audio performance
Great for portable gaming
Ability to wirelessly link two devices together
CONS
Large neckband can seem bulky
Earbud cables are thin and feel fragile
Bass isn't super powerful
What's in the Box?
LG Tone Studio HBS-W120 Wearable Personal Bluetooth Speaker
USB charging cable
Two pairs of eartips
User guide
Fit (Isolation)
Good universal fit and intuitive wearable design.
The neckband of the LG Tone Studio HBS-W120 rests around your neck for a comfortable and easy fit.
Earbuds are attached to a thin retractable cable on each side of the neckband.
These earbuds are similar to other LG neckband-style earbuds. They are good quality and have a good universal fit.
Passive sound isolation is average-to-low compared to tighter fitting earbuds. These headphones to not have active noise cancelling.
An important advantage is that you can take your tunes wherever you go without needing to wear earbuds or headphones that isolate you from the world around you.
This is an important safety concern for walkers, bicyclists, and others.
Neckband-style headphones work well for a number of purposes, but this model won't be the best for runners or high activity workouts.
Comfort
Easy to wear but hard to hide.
The LG Tone Studio HBS-W120 wearable personal speaker neckband has a nice ergonomic design.
Weighing in at 6.4 ounces (181.4 grams), it feels lighter than it looks.
Since there are several speakers and two earbuds built into the neckband, the assembly is a bit bulky.
This means that you can't easily hide it under a shirt. A collared shirt can cover the neckband, but the collar will push out a little.
Soft eartips on the lightweight earbuds are easy to wear and the thin wires that connect to the neckband are not heavy at all.
Durability
Survives a drop test and keeps on working.
Construction quality of the LG Tone Studio HBS-W120 wearable speaker and Bluetooth earbuds is quite good.
The plastic case will easily protect the electronics if you accidentally drop the neckband.
Retractable earbud cables keep the earbuds safe inside the tips of the neckband.
The main mark against the HBS-W120 is that the earbud wires are very thin and feel fragile when pulling on them.
This issue is especially noticeable when pulling them out to get the spring-loaded mechanism to retract.
Strain relief between the cables and the plastic earbud cases are good, but the connection points could fail after a year of heavy use or abuse.
The neckband does not fold or come with a carrying case, so be aware of that when you pack them in a bag or travel.
Bluetooth (Battery)
Excellent battery life up to 40 hours.
While the neckband may seem bulky, it has an excellent battery built-in so you can listen to music for hours and hours.
You'll get more listening time when using the earbuds since they take less power from the amplifier circuit.
The battery life is still great when using the surround sound speakers.
In standard listening mode you can expect the earbuds to last for about 35 hours and the speaker to last for up to 6 hours.
Charging time is a very quick two hours, which is great compared to other products with smaller batteries.
Bluetooth range is ok, but don't expect this wearable speaker to pickup the signal from your phone or computer beyond about 30 feet (9 meters).
You should also know that the Bluetooth technology for these earbuds does not currently support aptX or other high definition audio decoding formats.
Controls
Easy controls with a Dual Play sharing mode.
All of the controls are located on the inside edge of the neckband.
There is a switch for on/off and a switch to turn the speakers on/off.
The earbuds only work when the speakers are turned off.
A play/pause button is located on the right and a pairing button is located on the left.
These headphones will work just fine for phone calls.
Just be prepared that the speakers will produce a mono signal on the right side when used as a speakerphone. The earbuds still work in stereo.
LG includes an innovative feature with the Tone Studio HBS-W120 wearable speaker called Dual Play that allows you to link to another neckband.
This is great for portable gaming or watching a movie with a friend.
Best gaming headphones guide here.
The neckband also accepts wired audio connections for use with non-Bluetooth playback devices.
Sound
Surround sound speaker mode for immersive listening.
There are several speakers located in the neckband, including two speakers that fire down.
Those down-firing speakers are intended to provide what is called haptic feedback or tactile response to increase your perception of the low frequencies.
The multiple speakers also provide a "Real 3D Surround Sound" effect that helps immerse you in the audio experience.
The surround sound works pretty good, but it isn't quite as powerful and immersive as the descriptions make it sound.
That's not to say it doesn't work though, because it is certainly better than several other portable Bluetooth speakers. Plus, you get to wear this one!
Having a personal wireless speaker around your neck is a great way to experience movies and games.
LG makes a consistently good quality earbud that sounds good, and the earbuds with the Tone Studio HBS-W120 wearable wireless neckband speaker are solid.
Highs are crisp and articulate.
Bass response for the earbuds is generally pretty good, although it won't impress audiphiles or bass heads.
Even though the down-firing speakers on the neckband are a good idea, they tend to produce more of a tickling sensation on the skin instead of a deep subwoofer effect.
Overall this product is a good option for portable personal audio. It's likely that future versions of the LG Tone Studio HBS-W120 will be even better.
The LG Tone Studio HBS-W120 wearable personal Bluetooth neckband speaker and earbuds are great at surrounding you with sound and giving you the option of listening to quality music with earbuds.
---
PROS
Effective noise cancelling, up to 95% noise reduction
Comfortable, lightweight design
Great battery life with up to 16 hours of playtime
Balanced sound signature
CONS
Wind messes up with sound quality when ANC is on.
These are the best Bluetooth earbuds with noise cancelling technology. If you want to enjoy your music in peace over wireless Bluetooth connection and have all of this technology in small sized earbuds, Phiaton BT 220 NC are right for you.
For noise cancelling over/on-ear headphones click here.
They supposedly block up to 95% of background noise, in real life they are very effective and can even compare to the more expensive ANC (active noise cancelling) models.
Fit (Isolation)
The earbuds are quite big but because of their light structure they don't pull down too heavily. The fit is good and the buds don't fall out too easily.
The only problem with the fit is that they are quite big and if you want to sleep with them with the head on the side you won't be able to do this comfortably.
Sound isolation is pretty good by itself with the ANC turned off, turn it on and you get almost silent background.
Comfort
Comfort is good for everyday use and even for all day wearing. The ear tips that you get in the package are decent, but picking some Comply tips makes everything even better.
If you fly a lot and need a pair of comfortable earbuds for long continental flights, Phiaton BT 220 NC earbuds are perfect for this role.
Durability
When it comes to build quality the earbuds lack top notch materials as they are made out of plastics, but for the intended use of long flights or commute in a dry and relatively safe environment, they are more than good enough.
You might not want to get caught in the rain with these on or accidentally drop them on the floor as they aren't built for moisture or physical abuse.
Bluetooth (Battery)
They use Bluetooth 4.0 which sounds fancy, but in reality it isn't much different from any previous versions. They also have NFC support for an even easier connection and you can connect 2 devices at the same time.
The range is the standard 30ft (10m) or more in an open space.
All of the technology and battery is stored in an MP3-like looking device where you control the music, volume and connections. You can use them as wired earbuds as well.
The battery has been improved and now you get up to 16 hours of playtime per charge with Bluetooth and ANC enabled. This is very good battery life for a pair of earbuds. If you use one only one mode, only Bluetooth or only noise cancelling, you'll get even better battery life.
Sound
Sound quality also doesn't disappoint. It has a balanced sound signature with punchy bass, detailed mids and clear highs.
It isn't a basshead model by any means, so bass is more to your liking you should look at some other model.
The only "problem" they still haven't addressed is the wind sound when ANC is on. If you wear these outside on a windy day you'll hear the noises of wind which is frustrating to say the least.
All in all, if you want some well-built Bluetooth noise cancelling earbuds with great battery and balanced sound, Phiaton BT 220 NC are right for you.
---
If you want lots of bass, then the Sony MDRXB70BT/B wireless Bluetooth earbuds are for you.
Basically, these are the most "basshead-friendly" Bluetooth earbuds on this list.
PROS
Plenty of bass
Easy to use
8-hour battery life
Great value for money
CONS
Not water resistant
Larger neckband
What's In The Box?
Sony MDRXB70BT/B Wireless In Ear Headphones
USB charging cable
Four sizes of hybrid silicone eartips
Instruction card
Fit (Isolation)
A loose fit with good sound isolation.
These earbuds provide a basic level of passive noise isolation which is above average since these are in-ear earbuds.
The fit isn't super tight, so there isn't as tight of a seal as you might get with other earbuds though this largely depends on ear tips you use.
Four sizes of silicone eartips are included to help with the fit for different ear shapes/sizes.
The main issue with the earbud design is that it doesn't stay in the ear very well if you are moving around a lot. That means they aren't the best for working out.
For regular walking and moving they fit well.
Comfort
Light and easy to wear.
Even though the neckband is a little bit longer than similar neckband-style earbuds, the Sony MDRXB70BT/B wireless earbuds feel very light.
The larger neckband means that the weight is spread out over a larger area, making them feel even lighter than they already are.
One primary concern that some users may have is that the cables connecting the earbuds to the neckband are fairly long.
Long cables allow good range of motion when turning your head, but they can get in the way during certain activities.
Durability
Good neckband design but some issues with cable connections.
The neckband is flexible and foldable, which is great for compact storage.
Unfortunately, the cables attaching to the earbuds do not have the best strain relief. This can cause problems with the cables pulling out with too much force.
Additionally, the longer cables mean that they can get caught or snagged on things. There isn't any cable management included to help with this issue.
The casual user will probably not have any issues with durability, but a daily user or regular commuter may find that these earbuds aren't the best for heavy use.
The Sony MDRXB70BT/B wireless earbuds are not water resistant. They will work fine for indoor use, but humid or wet environments may cause some damage.
A minor problem is that the Bluetooth circuit can generate a little bit of high frequency hissing on some units.
This may be a product quality control issue, so be sure to ask for a replacement if you hear this sound.
Bluetooth (Battery)
9-hour battery with reliable wireless operation.
NFC Bluetooth pairing technology allows you to quickly pair your device with these wireless earbuds.
There aren't any significant audio enhancements for the Bluetooth streaming technology, but music quality is still really good.
The battery located in the neckband provides reliable operation with up to 9-hours of playback time.
Wireless range is good, easily falling within the 30 feet (9 meter) standard range for most Bluetooth devices.
Controls
Simple controls and microphone located on the neckband.
There is nothing complicated about the controls for these earbuds.
There is a multi-function switch for power on/off and play/pause, as well as two buttons for volume up/down and track control.
All of the controls are located on the inside left of the neckband.
A microphone is also located on the tip of the neckband.
Just know that since the neckband is fairly long, the microphone can sound muffled if it is under clothing or rubbing against something.
There are no options for remote app control or enhanced features built into these earbuds.
However, you can use EQ adjustments that may be built into your playback app or device.
Sound
12mm drivers pump out Sony's Extra Bass performance.
A surprising amount of sound and low energy comes out of the Sony MDRXB70BT/B wireless earbuds.
12mm drivers deliver plenty of power and punchy bass.
Sony uses their Extra Bass engine to produce emphasis on the low frequencies, and it certainly works.
If you are a bass head, you'll probably like the enhanced bass response.
If you prefer a more flat or even response curve, then these probably are not the earbuds for you.
The Extra Bass processing is built into these earbuds and cannot be turned off.
Highs and mids are reproduced with good clarity.
These earbuds are perfect for listening to Pop, Hip-Hop, and EDM genres.
The sound quality is pretty good for wireless headphones that cost under $100.
Sony MDRXB70BT/B wireless earbuds are great for bass heads wanting Extra Bass performance and a comfortable neckband-style earbud.
---
PROS
Lightweight and comfortable, despite bigger size
Well built without any weak points
A lot of features
Affordable price
Good, balanced sound quality with Apt-X
CONS
Rather bad battery life
Some fit issues during fast movement
Here are another Bluetooth earbuds that offer more than their money's worth. The affordable price of Brainwavz BLU-100 gives you a lot of technology that won't leave you lackluster.
Brainwavz is a company that is known for making good budget headphones and this is their first attempt at a Bluetooth model.
Fit (Isolation)
The earbuds are rather big, but still light and with a combination of Comply tips that you also get in the package, getting a good seal is easy.
They tend to lose the seal during faster movement, so they aren't best suited for exercise. A quality pair of aftermarket ear tips might solve this problem, but it's hard to know which tips are the best since we all have different ears. You'll just have to test it for yourself.
Sound isolation is also good as you'd expect from any IEMs.
Comfort
The big earbuds can be a bit of a problem if you want to sleep or lie down with them with your head on the side. This will be very uncomfortable if not impossible.
For general use the weight isn't an issue and as long as you pick the right ear tips you shouldn't feel any discomfort even after hours of wearing them.
You get 3 sizes of silicone ear tips and one pair of Comply S-400 tips.
Durability
Build quality is very good, it's better than what you'd expect from a product with this price.
They're made out of some kind of metal-like material and rubber and assembled together well. They don't have any sweat protection so keep them safe from moisture.
The clamp carrying case is also sturdy and will keep your earbuds safe for a long time.
Bluetooth (Battery)
Bluetooth 4.0 with Apt-X support is what you get for connectivity and it works without any problems or bugs up to around 25ft (8m). You can connect it to iOS, Android or Windows devices.
You get a remote with 3 buttons by which you control the music and the microphone for making calls which does a good job. People will be able to clearly hear you without interruption.
The battery is probably the only feature that is slightly disappointing. You'll get only about 4 hours of playtime out of them. A full charge takes up to 2 hours via micro USB cable. The battery is probably enough for most users, but you'll have to spend more time keeping it charged.
Sound
Sound quality is also a pleasant surprise for a Bluetooth model. The neutral, balanced sound signature is more enjoyable than most earbuds in the category.
If you liked balanced sound without any of the ranges sticking out, you'll like these.
There is a slight emphasis on mid-bass but you'll only notice it if you're a seasoned audiophile.
Bass, mids and treble are all well represented to give a pleasant, balanced sound. Make sure you music device has Apt-X support and enjoy the best sound quality Bluetooth can offer.
---
VAVA Moov 28 are the latest wireless earbuds on the budget. For a price of around $30 you're getting a lot of technology.
This is why VAVA Moov 28 are the best cheap wireless earbuds right now.
They're really cheap and they work well, read more about it below.
PROS
Cheap price
Durable, ergonomic design
Good battery life in a small package
Comfortable
CONS
A budget model that can't compare to high-end
What's in the box?
VAVA Moov 28 Bluetooth earbuds
3 pairs of silicone eartips
3 pairs of earwings
Short Micro-USB cable
Shirt clip
Soft carrying pouch
User guide
Fit (Isolation)
The earbuds itself are quite bulky as is normal for wireless Bluetooth earbuds. But that doesn't mean they're heavy. Quit the opposite. For their size they're very light and don't pull down on ears.
They'll still stick out of the ears a bit since they store a battery inside but it isn't a problem.
The fit is very stable. With the help of the ear wings you'll adjust them very rarely. Once you put them in they stay in place.
This makes sense since these were made for sports as well.
The noise isolation is also above average. Of course, just like with other in-ear headphones it all depends on the ear tips you choose. The tighter the fit, the better the noise isolation.
Durability (Sweat-Resistance)
When you'll hold these in your hands for the first time you won't notice they're a cheap model. In fact they look like model that are many times the price.
The earbuds are made out of aluminum with built-in magnets at the end. This gives the impression of good build quality. Actually, it's not just the impression, they really are well built.
The cable is rubberized and flat. The in-line controls have clickable buttons that need good pressure to press. These are all signs they're well made.
Plus they have IPX5 certification which means they're sweat-proof and splash-proof. Great for all kinds of activity or for heavy sweaters. This is why these are also one of the best workout earbuds.
Bluetooth (Battery)
The 4.1 Bluetooth is one of the latest versions and works well. You won't get the best range and stability since any thicker wall will distress the signal but they don't drop easily either.
It's about average Bluetooth performance which is fine for cheap wireless earphones. You can connect them to 2 devices at the same time.
The battery has solid 8 hours of juice which is comparable to more expensive wireless in-ear models. In 8 hours you can do a couple of workouts or a whole workday at your job.
Charging is simple and done via a Micro-USB cable in 2 hours.
Controls
The in-line controls work well and the 3 buttons are easy to use. You can play/pause, switch songs, change volume and answer/reject calls, as well as turn it on/off.
The in-line microphone also works well and people won't know you're talking to them with wireless earbuds instead of a phone.
Sound
The sound is also good. It's nothing special since these are cheap Bluetooth earbuds but compared to the competition they don't fall far behind.
Of course, they can't compare to higher priced audiophile headphones so don't expect to get hi-fi sound. But do expect to get satisfactory quality that won't irritate you.
Because that's exactly what you get, good sound quality considering the price and the fact these are Bluetooth earbuds.
Sure they do support aptX which probably helps but a trained ear will hear a lack in high fidelity.
These have decent highs which get a bit sibilant at higher volumes. The mids are satisfactory but nothing special and the bass is slightly muddy and uncontrolled. But this would be an audiophile summary.
If you're an average user you won't notice these things and be more than happy with the sound quality. Just keep in mind you need a good, tight seal to get the deepest bass.
Overall, VAVA Moov 28 are definitely one of the best budget wireless earbuds on the market right now. If you want lots of value for little money, get these.
---
How to Pick the Right Eartips?
When it comes to eartips you basically have 2 options.
Regular silicone eartips
Premium foam eartips (Comply)
The silicone eartips usually come in the same package as the earbuds. They are cheap to replace and quite effective at blocking out noise and providing comfort.
They are the standard.
The Comply foam tips are slightly different and just what the name suggests, made out of foam. Many people prefect foam eartips because they offer better comfort and noise isolation.
Since the foam adapts to the internal structure of your ear canal these are super comfy and great at noise isolation.
Now you might have also heard about the custom molded eartips but those are much more expensive so we can't compare them.
It doesn't matter what type of eartips you pick, look for…
…the right size.
With most earbuds/in-ear headphones you'll get at least 3 pairs of different sizes of eartips. Pick the one that fits you best and provides optimal comfort and noise isolation.
When it comes to bass from earbuds, having a tight fit is crucial.
If you barely hear any bass you might have too small eartips. Replace them with bigger ones.
If they keep jumping out you might have too big ones that don't fit inside your ears. Basically you'll just have to try all possibilities and stick with the ones that you like the best.
We're all a little different so there's no "right size".
And if you want a better experience…
…you might want to check out the foam eartips. Now, these are more expensive and deteriorate faster but also do a better job.
Warm them up with your fingers and press on the foam to make them as small as possible. Insert them inside the ears so they expand to the shape of your ear canal.
You'll get maximum comfort and passive noise isolation which will improve the overall listening experience.
It's not rocket science really. Just a question of how much money you want to spend and taking 5 minutes to try all the sizes.
What Range Can I Expect from Bluetooth Earbuds?
While they keep claiming that the newer Bluetooth versions offer better range, that's hardly true.
Even with the latest version you should expect up to 30ft (10m) of range without obstacles in between.
Now, some Bluetooth headphones might have better range and some a bit worse, but generally you'll get reliable wireless performance in the 30ft (10m) range.
Keep in mind that obstacles like walls, especially thick ones, will greatly diminish the range or interrupt the transmission altogether. This is especially common with cheaper Bluetooth earbuds and headphones.
Again, some wireless earbuds might work great even with walls in between but this is more of an exception than a rule.
The Bluetooth technology is great and is here to stay even though it does have its own limitations.
Wireless (Bluetooth) vs. Wired
Wireless earbuds offer more flexibility of movement, this is especially helpful when it comes to sports or any other activity when you need to move a lot.
You like sports, you're hitting the gym, riding your bike or just running frequently. You want small and comfortable headphones, preferably earbuds, that will last you the whole training, or bike tour without having to deal with pesky wires. Bluetooth headphones are perfect for that.
The advantage of wired earbuds is the price. They are usually cheaper to buy and easier to maintain, since you don't have to charge them.
The Bluetooth technology is relatively old and is present in many electronic devices for many years now, but has only recently been employed for use in headphones and earbuds. It is a wireless technology that uses short length UHF radio waves over short distances.
It is perfect for establishing communication between devices with a simple button without having to set up any user configuration like with Wi-Fi.
A cool thing with Bluetooth headphones and headsets is that most of them have a microphone and control buttons on earpieces themselves. This makes it much easier to control the music and make/take calls without having to handle your connected device.
Earbuds also differentiate in how well they resist the water, the rain from the environment and sweat can be fatal to some earbuds. Make sure to get a sweat-proof version if you intend to use it for sports. There are many quality models to choose from.
For most extreme cases some are even water-proof underwater, suitable for water sports.
Check the video below for more info on wireless vs. wired.
Is Sound Quality with Bluetooth Worse than With Wires?
Yes, for the wireless transmition of sound via Bluetooth, the data is compressed and thus it loses some of the sound quality.
But with the latest generations of Bluetooth devices, a lot of them come with Apt-X codec (among others, aptX os most common) which fixes this issue. As long as you have Apt-X enabled music device you can get high quality sound over Bluetooth as well.
What Devices are Compatible with Bluetooth Earbuds?
All the modern smartphones and tablets, iOS, Android and Windows. So all iPhones and later Android and Windows devices, plus specific Bluetooth MP3 players as well.
Generally, if your music device has Bluetooth, you should be able to connect.
For more top lists check the links below.
Comments